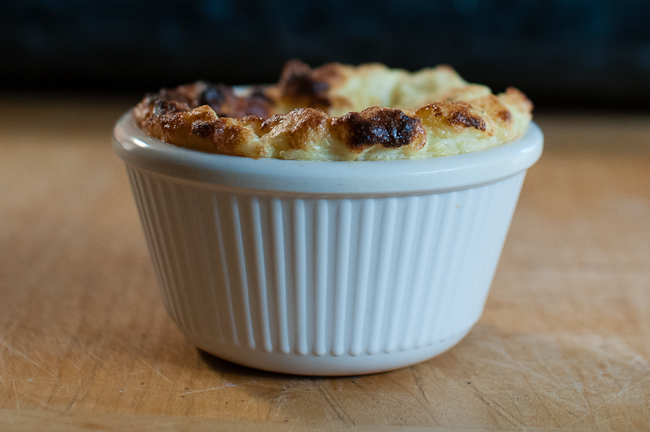 Happy 2014! May this year bring you a lot of cauliflower, wheat berries, and chocolate!

Cooking is an art form. And as with any art, it takes time to master.
First, you learn the skill by copying someone else's perfection. Recipe after recipe. You learn to broil, cream, and season. You practice until, finally, you close all cookbooks, reach into the pantry/fridge/veggie basket and create your own masterpiece. And then YOU KNOW; you've mastered the art of cooking! You are an artist.
After years of practice and experimentation, humbly yet with confidence, I can call myself a culinary artist!
And now that I can so easily express myself through cooking, I feel a need for a different form of self-expression. So, secretly, behind my kitchen's back, I've taken up sketching…. I feel bad, as if I am cheating on my pots and pans with the new and shiny pencils and erasers… yet I continue listening to the voice inside me, and I keep on drawing.
My sketching is at its very early stages of evolution. I mainly draw inspiration from photographs. I sketch in black and white, following one very distinct style. I pick one simple subject: a meaningful facial expression, a gnarly smile, a telling silhouette… I turn my paper upside down; stroke by stroke, until finally a picture emerges. The act of sketching itself is therapeutic and meditating; while seeing the final result is completely intoxicating… Just like with cooking….
This new recipe was inspired by a master of simplicity, the one and only Malevich. I saw a picture of the dish in The Art Of Eating Well and it reminded me of White on White. Light, graceful, and delicate. Healthy, comforty, and clean. This souffle will tickle your senses and inspire you to start cooking again… and perhaps even drawing.
White on White: Cauliflower Soufflé
Adapted from The Art of Eating Well: An Italian Cookbook and The Iron You
Ingredients
1 cup (250 ml) milk
1 medium cauliflower head, washed, trimmed and cut into florets
1 clove of garlic, peeled
1 tsp fine grain sea salt
¼ tsp ground black pepper
3 large eggs, divided
1 cup (80 gr) grated sharp cheddar cheese
3 tbsp grated Parmesan cheese (Optional, in my opinion. I have done both with and without it)
1 tbsp butter
Directions
Preheat oven to 425°F. Brush the sides of 2-quart soufflé dish (or 6 ramekins) with butter and coat the bottom and sides with grated Parmesan cheese, knocking out excess. Set aside.
In a large saucepan add cauliflower florets, milk, garlic clove, salt and pepper.
Bring to a boil, then reduce to a simmer, partially cover with a lid and cook for 15 minutes.
When the cauliflower is cooked, remove from the heat and with an immersion blender, blend until smooth and creamy (be careful not to splatter yourself). You can pre-cook the cauliflower days in advance and store in the fridge. This really makes this dish easy to whip up last minute.
In the meantime, in a large bowl with an electric mixer fitted with whisk attachment (or in the bowl of a heavy-duty mixer), whip egg whites with a pinch of salt, starting on low, increasing incrementally to medium speed until soft peaks forms, about to 2 to 3 minutes. Set aside.
Add egg yolks, one at a time, working quickly to make sure that they don't poach. Stir in cheese.
With the help of a spatula gently fold egg whites into cauliflower mixture and pour into the prepared baking dish.
Transfer to oven and reduce temperature to 375°F. Bake until top has lightly browned and soufflé has risen about 25 to 30 minutes if you're using the soufflé dish or 15 to 20 minutes for the ramekins.
Serve immediately (before the soufflé starts collapsing).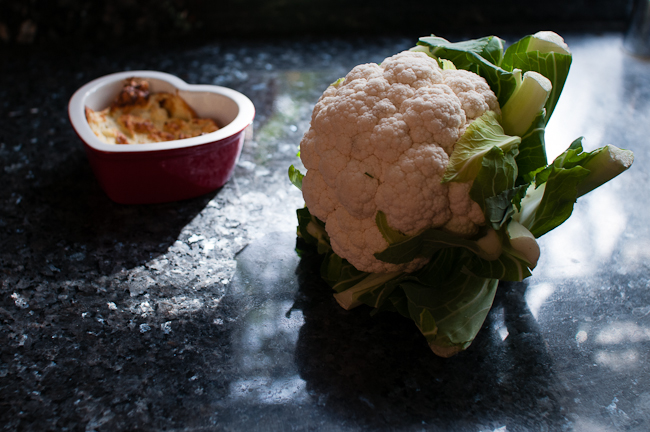 Wine pairing
Once upon a time I was blown away by a food and wine pairing. A simple, creamy cauliflower dish with a bottle of vintage Chateauneuf du Pape Vieilles Vignes. To share :(  This is probably the only French wine I will ever reference on Cucee (only because I am a supporter of local and talented wine makers).