I've been on a path to heal my achy gut this past year. I've tried many different approaches, but none have produced any good (or shall I say "gut") results. The newest one is all about eliminating foods high in insoluble fiber, which is pretty challenging for someone who's had a love affair with chia seeds, flax and beans for years now.
I have no way of knowing if I will stick with this way of eating for long before I'm put on my next diet. In the meantime, however, I am on the lookout for healthy nutritious recipes low in insoluble fiber. This hummus fits the bill – it is light and healthy, contains no garbanzo beans, and allows me to repurpose the Chard stems that I've been discarding all this time.
And it tastes soooo good! Everytime I serve it I get asked for a recipe!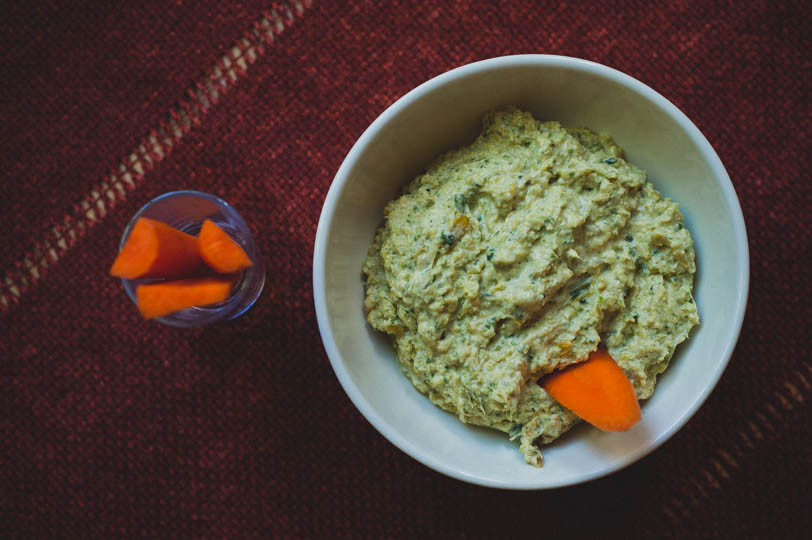 Chard Stalk Hummus (or Lightest Hummus on Earth)
Adapted from The CSA Cookbook
In our house, we like hummus in any flavor, texture, or style. As a dip, a salad dressing, or a spread. The base of each hummus creation never changes: chickpeas, garlic, tehina, lemon juice and olive oil;  while the flavoring agents vary seasonally: sun-dried tomatoes in the winter, herbs in the spring, grilled peppers in the summer, root vegetables in the fall. Imagine my surprise when I saw this Chard Stalk Hummus recipe change the rules of the game completely and mess with the holy hummus base! No chickpeas in hummus? What? Well, this beanless light spread has really changed the way I approach hummus, thanks to a wonderful new The CSA Cookbook.
Ingredients
2 cups chopped chard stalks (from one bunch)

2 garlic cloves

¼ cup tahini
½ teaspoon kosher salt

Juice of 1 lemon

Swirl of olive oil

Chopped fresh parsley for garnish
Directions
Bring a small pot of water to a boil. Add the chard stalks and boil for 5 to 10 minutes (depending on how thick they are) until the stalks are very soft
Drain well, squeezing out any excess water, and add the stalks to a food processor, along with the garlic, tahini, salt, and lemon juice. Pulse continuously until the dip is slightly chunky and still has some bite to it, scraping down the sides of the bowl with a rubber spatula as needed

Serve with a generous swirl of oil on top and a sprinkle of chopped fresh parsley, if desired
Wine pairing
If you want to challenge yourself, try pairing Hummus with wine! I mean it! Or to make life easier, go with my suggestion and get a bottle of  2013 ONEHOPE California Pinot Noir. It is light, subtle and will not fight Hummus for your attention.