Wow! My first lowcarb Chanukah celebration! Wait, isn't that an oxymoron – a low-carb Chanukah? A holiday that is traditionally carb galore: Potato Latkes, noodle kugel, jelly donuts. Yes, there is also a brisket somewhere there as well, but it is the carbs that take the center stage. Well, this year, I was forced to come up with an alternative.
I've never really been a fan of the rich carby holiday table, but I embrace it the same way I embrace my Jewish heritage, which I was born into but did not grow up with. However, this year, against all the traditions, I am faced with a choice to make – celebrating the unorthodox way or not celebrating it at all. You see, earlier this summer, my doctor has put me on a very restricting diet—she basically forbid me to even look at any starchy vegetables, grains, flours, and even fruit!
But back to the Hanukkah celebration. I chose the first option—celebrating untraditionally.
So this year, no rich carby dishes will show up next to the Menorah. It is low-carb, ketogenic, gluten- and dairy-free, and paleo Hanukkah dishes only. Cauliflower latkes will replace the potato ones. Gefilte fish will make way to the Sesame Salmon Balls. And the Jelly donuts will be replaced by the Coconut Flour ones. And why not shake things up and replace the brisket with my new favorite meat dish – Duck Gumbo.
I wish I could share with you ALL these recipes (I've made them before—they are fantastic!)  but I am afraid it would take me over a month to put a post like that together. So today, I will be sharing a recipe of the Sesame Salmon Balls with Ginger Tahini Dipping Sauce from my new Paleo cookbook. The cauliflower latkes are also from the same cookbook. Just look for the Cauliflower Fritters recipe.
Giveaway
I have one Paleo Home Cooking: Flavorful Recipes for a Healthy, Gluten-Free Lifestyle to give away. To win a copy, all you have to do is
Post a comment on the blog with a name of your favorite Healthy Holiday Recipe and

Like this recipe post on the CuceeSprouts Facebook page
The winner will be announced on Tuesday, Dec 8th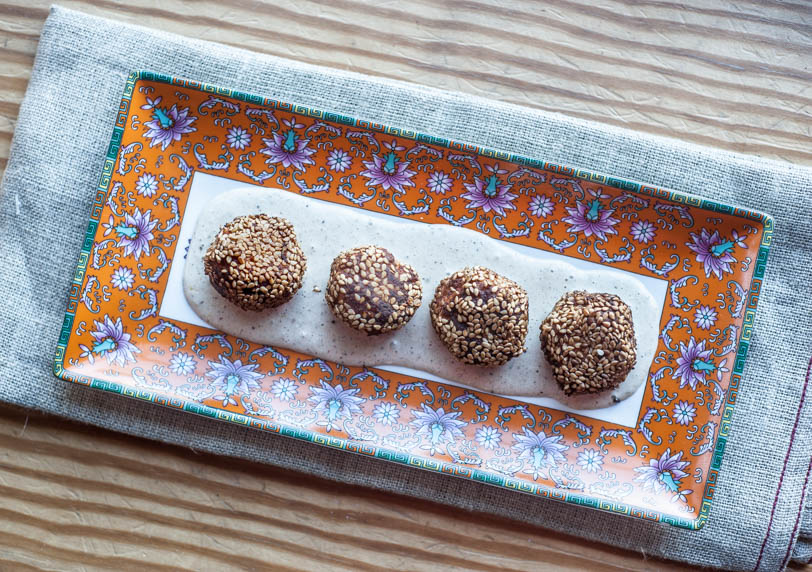 Sesame Salmon Balls With Ginger Tahini Dipping Sauce + Cookbook Giveaway
Adapted from Paleo Home Cooking: Flavorful Recipes for a Healthy, Gluten-Free Lifestyle
I ground my own salmon in a food processor. The texture comes out to be smooth and pasty. Like that of the chicken nuggets.  I like it. My husband, however, prefers me to finely chop the salmon instead, as he likes his food with a bite to it. You can't go wrong with either texture.
Ingredients
For the salmon mixture
For the dipping sauce
For the assembly
Directions
Fill your food processor with some of the salmon and grind in one-second pulses. Partially pre-freezing the fish helps the food processor blade to cut it cleanly, rather than tearing or smearing it. Empty into a large bowl and repeat with the remaining fish. Mix with the rest of the salmon mixture ingredients.

Place the mixture in the refrigerator to chill for at least 2 hours. For convenience, you can prepare it the night before.

The day of cooking, prepare the dipping sauce by placing all the ingredients to a small food processor and processing until smooth and creamy. If you want a creamy runny sauce, keep it outside of the refrigerator. If you want a thick sauce, chill for a couple of hours. (I prefer a runny one.)

Disperse the white and black sesame seeds on a plate.

Once the salmon mixture is fully chilled, roll it or scoop it into 36 balls, roughly the size of a Ping-Pong ball, then roll them into the sesame seeds to coat. You can use your hands for this or an 1¼ inch

(3.25 cm)-diameter

spring-loaded ice cream scoop.

Heat the cooking oil in a large heavy skillet set over medium-high heat and cook the salmon balls, turning them often, until nice and golden all around, which should take about 6 to 10 minutes total. You might have to work in 2 or 3 batches, depending on the size of your skillet.

Make sure not to overcrowd the pan so that air gets to circulate freely between each ball.

Allow the balls to cool slightly before serving with the dipping sauce.
Drink Pairing
The Salmon balls go impeccably well with Moscow Mule (even on those cold winter nights). However, if you are not feeling like having a vodka-based drink, you won't go wrong with any of these three fruity Le Grand Courtage French Sparkling Wines