Do you ever come up with an incredible recipe idea that you just HAVE to share with the rest of the world, so you create it and you photograph it and everything is perfect, but right before you post you realize that the photos of the delicious dish are all terrible? And no matter how many times you make this dish, the photos still do not turn out?
Well, this is that recipe.
So I was faced with a decision to make. Do I post a great recipe with bad pictures to my trusting epicurean readers or let my fear of judgement get the best of me and keep the recipe all to myself?
I, clearly, decided to go with the first option.
This recipe is pretty simple. Bake the eggplants in coconut oil, sandwich them together with a filling of cheeses and egg, add the toppings and serve on tortillas as tacos or on their own. Not much to it. Simplicity is key sometimes!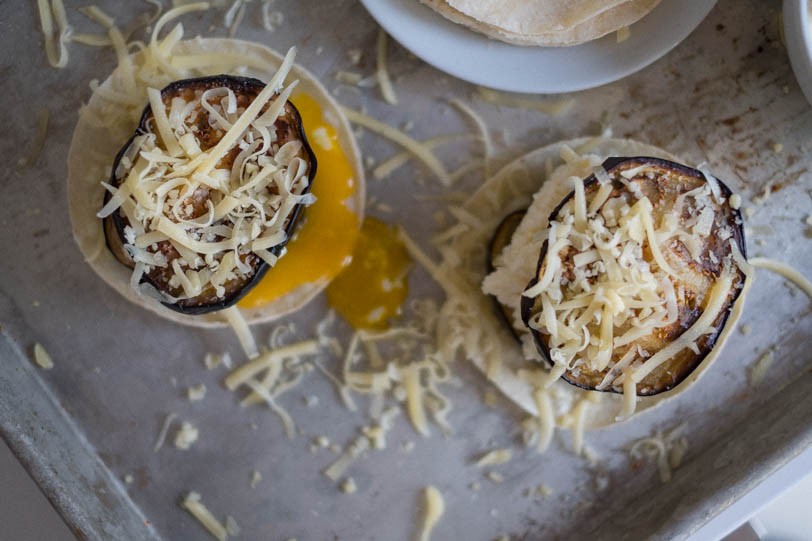 Eggplant Sandwich Tacos
I am calling for soft-boiled eggs here. You know, the ones with the fully cooked egg white and the runny and custardy yolk? When you crack into a beautifully soft-boiled egg, the yolk oozes out of the eggplant sandwich, mixes with the cheese and the pesto, turning into a perfect sauce for the dish.
Ingredients
1 regular eggplant or 3 Indian eggplants

Corn tortillas (skip if going low-carb)

Filling (see below)

Toppings (see below)
Filling
½ cup ricotta or farmer's cheese
½ cup of cheese of your choice, grated by hand  (i like Jack here)

3-4 soft-boiled eggs, cooled and peeled (number of eggs depends on the number of eggplant slices)
Toppings (pick one more)
Grated cheese of your choice

Sauteed bell peppers

Pesto sauce (dairy-free for paleo)

Homemade mild salsa
Directions
Preheat oven to 350 degrees F . Line a baking sheet with parchment paper

Cut the eggplant into 1/3 inch thick slices

Place the eggplant onto the baking sheet. Generously brush each piece with melted coconut oil on both sides and season with salt and pepper

Bake until golden brown for about 40 minutes, turning halfway through. Cool for 10 minutes

While the eggplants are cooling, make the filling (if using) by mixing the two cheeses together

To assemble the Loaded Variation (see below), start with a tortilla, add one slice of eggplant, a tablespoon of pesto, a tablespoon of the cheese mixture, an egg, ¼ cup sauteed peppers, another tablespoon of the cheese mixture, another slice of eggplant, a tablespoon of pesto and a tablespoon of grated cheese

You can broil these to get the cheese to melt or serve them as is. Broiling will cook the egg a little more
Suggested variations
Loaded Variation: Tortilla: Eggplant > Cheese Mixture > Pesto > Egg > Sauteed Peppers > Cheese Mixture > Eggplant > Pesto > Grated Cheese
Paleo, Low-carb and Ketogenic Variations: Eggplant > Dairy-free pesto > Sauteed Peppers > Egg > Eggplant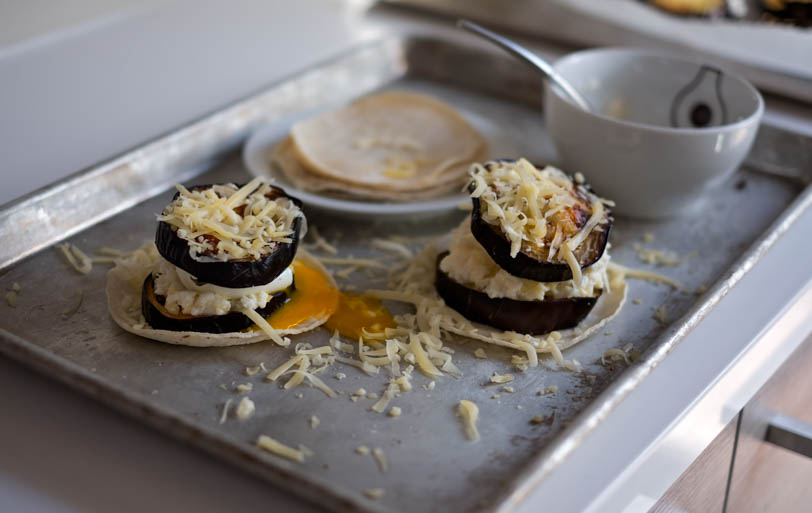 Drink Pairing
When anyone mentions tacos, I imminently think of Clase Azul Reposado Tequila. Maybe it is because the first time I ever laid my hand on the gourmet tacos at Tacolicious, they were nicely paired with a double shot of this exquisite tequila. No going back for me!