It happened to me on the day I met my daughter…
My water broke in the morning. I was in the middle of my contractions, scared but excited of becoming a mother for the first time.  Suddenly, I realized that I was dying for some good old Mexican food. Yep, that is me – thinking about food at the most inappropriate times.
I had been warned about a no-food policy for women in labor. Getting to the hospital too early meant meeting my daughter on an empty stomach.  Getting there too late meant going through a rather painful labor without the epidural.  I was faced with a very difficult decision to make.  So, with the frequency of my contractions down to only 5 minutes, my husband and I headed to a local burrito joint. There, I bought the largest steak burrito on the menu and gobbled it down in less than two contractions. Later that night, Mika was born.
Yes, I really like Mexican food. I love burritos, tortilla soups, enchiladas, guacamole, fish tacos, salads, you name it…. Before children, we frequented Mexican restaurants and taquerias, often indulging in hearty but not so healthy cuisine.  Since then, I have adapted many Mexican dishes to make them both kid friendly and healthy. I make to-die-for vegetarian enchiladas, a super-authentic-but-half-the-salt tortilla soup and a gimme-seconds-please veggie taco salad.
Here is a recipe of the delightfully unique healthy enchiladas that my son loves just as much as I do (or maybe even more.) This recipe makes a lot (leaving you with over 2 days worth of leftovers.) You can make the sauce 2 days in advance and assemble everything the day you serve these delicious baked wraps. Or, if you don't want to make so much all at once, you can roll the entire batch in advance and bake portions over several days.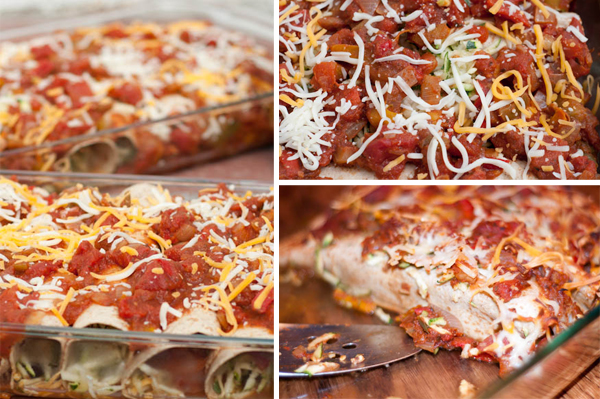 Zucchini and Olive Enchiladas
Adapted from The Gourmet Potluck
Serves 12
Ingredients
Chunky Tomato And Bell Pepper Sauce
Enchiladas
15 large fresh whole wheat tortillas
4 lbs zucchini, coarsely shredded
2 (2.5-oz) cans sliced black olives (I used organic kalamata olives)
3 cups shredded Cheddar cheese or a mixture of Cheddar and Monterey
1 pint sour cream, for garnish (optional) (I used nonfat Greek yogurt)
½ cup minced cilantro, for garnish
Serving Equipment
Directions
For Sauce
Heat the olive oil in a 3-quart pan over medium heat.
Add the onion and peppers and sauté until soft, about 10 minutes.
Add the remaining sauce ingredients and stir to combine.
Simmer for 30 minutes, until thickened, stirring occasionally.
Removed the bay leaf. (If making ahead cool and refrigerate. Then just before assembling the enchiladas, warm over medium heat until hot.)
For Enchiladas
Put tortilla on a plate and place a heaping 1/3 cup of grated zucchini, a few slices of olives and 1-2 tablespoons of cheese in the middle.
Roll the tortilla up and place it seam-side down in 1 of the casseroles.
Repeat to fill the remaining tortillas, laying them side by side in the casseroles.
Pour the sauce over the tortillas, laying them side by side in the casseroles. Pour the sauce over the tortillas and sprinkle the top with the remaining cheese. (If making ahead, the enchiladas can be covered and refrigerated at this point, up to 12 hours. Allow the casseroles to return to room temperature before baking, about 1 hour.)
Preheat the oven to 350 F. Bake, uncovered, for 30 to 40 minutes, until bubbling hot. Serve hot from the oven or warm. Or cool to room temperature, cover, refrigerate, and reheat on site.
Wine Pairing
Even though I am not much of a beer drinker, beer compliments these mild cheese enchiladas very well. I would suggest Santa Fe Pale Ale for a southwestern touch. But if you still want a glass of wine, try Parducci Small Lot Blend Chardonnay Mendocino County