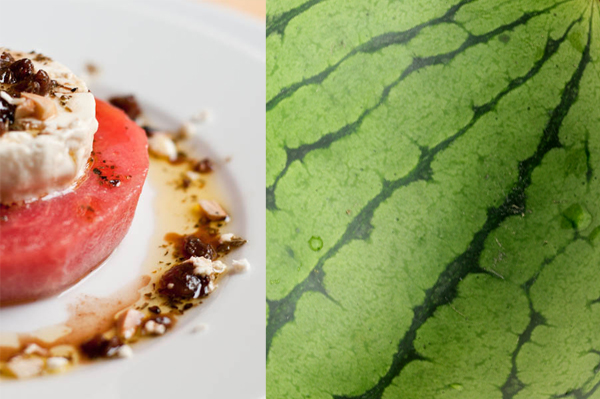 Re-think vegetarian cuisine!
No more tofu masquerading as meat, pretending to be cheese or camouflaging as scrambled egg! Forget all the cliché vegetarian dishes, often published as an afterthought in cookbooks or listed as menu addendums in restaurants. Meet a vegetarian appetizer that is so original that it will amaze and surprise you.  It will awaken your vegetarian soul and will force you to ask yourself one question: "Why do I not make vegetarian food more often?"
A stunning presentation, this Chile-Roasted Feta and Watermelon Slab is as imaginative and exotic as a modern vegetarian dish should be. Sweet watermelon, paired with salty warm feta, drizzled with bold oregano dressing; this appetizer presents a bouquet of unexpected flavors and inspires me to search for other adventurous vegetarian dishes.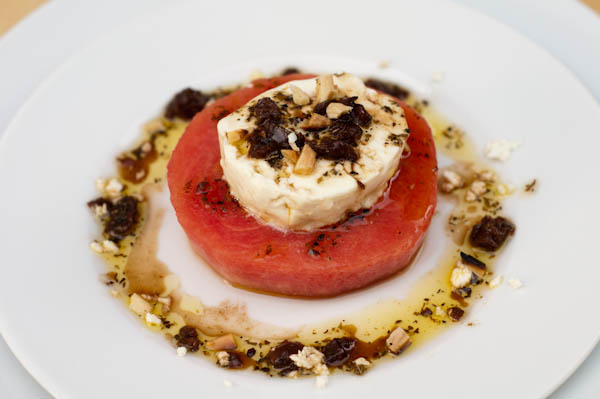 Chile-Roasted Feta and Watermelon Slab
Adapted from Modern Vegetarian
For Dressing
Ingredients
Dressing Directions
Soak the raisins in hot water for about 20 minutes until plump, then drain and finely chop.
Crush the garlic with the salt (in a mortar and pestle, if you have one) and transfer to a bowl.
Add the remaining ingredients, along with the raisings, and whisk together.
Store in the fridge until required; the dressing will keep well for up to a month
For Salad
Ingredients
4 evenly sized rectangles or circles of feta cheese approximately 1.5 oz each)
1 teaspoon chile flakes
A bunch cilantro sprouts (or leaves)
A bunch shiso sprouts (optional)
1 cup mizuna or baby lettuce leaves
2 tbps toasted slivered almonds
Raisin and Oregano Dressing (see recipe above)
4 pieces watermelon, cut into slightly larger rectangles than the feta, each approximately ½ inch high, chilled
Extra Virgin Olive Oil, for drizzling
Directions
Preheat the oven to 375F.
Cut a large piece of foil and put it on a baking sheet. Place each piece of feta on top, drizzle each piece with olive oil and sprinkle with a few chile flakes. Put another piece of foil on top and fold the foil edges together to form a loose parcel. (You can season and wrap the feta in advance but if you take it straight from the fridge you will need to double the cooking time.) Place in the oven and bake for 8 minutes, by which time the feta will be soft and warm.
Remove from the oven and assemble immediately: Snip the cilantro and shiso sprouts and mix with the baby lettuce leaves and pine almonds. Dress with a little of the Raising and Oregano Dressing and pile neatly on top of the chilled watermelon slabs.
Open the foil parcel and place the roasted feta on top of the salad. Drizzle with olive oil and serve immediately.
Wine Pairing
A crisp fruity Veuve Clicquot Brut Yellow Label Champagne is a perfect match!