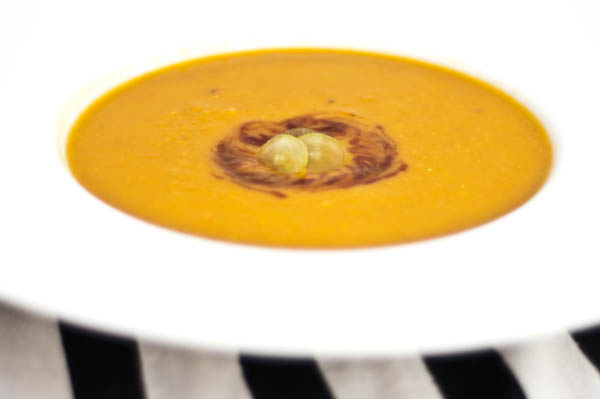 Silky and warming with a hint of ginger and curry, this soup is perfect for a chilly fall night.
Granny Smith Apple And Yam Soup with Glazed Slivered Almonds
Adapted from A Beautiful Bowl of Soup by Paulette Mitchell
Ingredients
For the almonds
For the soup
1 tablespoon canola oil
1 carrot, finely chopped
1 celery stalk, finely chopped
1 leek (white part only), halved lengthwise, rinsed, and cut into ¼-inch slices
2 cloves garlic, minced
2 teaspoons minced fresh ginger
2 teaspoons curry powder
5 cups vegetable stock (I really like Pacific Natural Foods Organic Low Sodium Vegetable Broth)
1 medium orange-fleshed sweet potato (about 10 ounces), peeled and cut into ½-inch chunks
2 Granny Smith, or other tart apples, peeled and cut into ½-inch cubes
½ cup dry white wine (Using good-quality wine is the key. You can use the same wine that I am suggesting for wine pairing)
Salt and ground white pepper to taste
Pomegranate seeds or dried cranberries for garnish
Directions
For the almonds
Stir agave nectar  and almonds constantly in a heavy skillet until they are light caramel color.
Spread on greased cookie sheet to crisp and cool.
For the soup
Heat the oil in a Dutch oven over medium heat.
Add the carrot, celery, leek, garlic, ginger, and curry powder; cook, stirring occasionally, until the leek is softened, about 5 minutes.
Stir in the vegetable stock, sweet potato, apples, and wine. Increase the heat to high and bring to a boil. Reduce the heat; cover and simmer until the vegetables are very tender, about 25 minutes.
In several batches, purée the soup in a blender until smooth. Pour the soup into the pan and reheat to serving temperature. Season to taste.
Garnish each serving with a sprinkling of almonds and pomegranate seeds or dried cranberries.
Wine Pairing
Fruity and elegant, this lively Paul Dolan Vineyards Sauvignon Blanc has a strong body to complement the boldness of the soup