Comfort food comes in all textures and flavors.
Comfort food is that special dish that your mom made you when you were sick. The dish that helped you get over a bad breakup.  The dish that got you through your finals in college.
It's your grandma's matzo-ball soup. Mom's mac-and-cheese. Crispy grilled-cheese sandwich.  Hearty bowl of stew. Vanilla gelato with chocolate chip cookie crumbles.
Comfort food… It warms up the soul as it destroys the liver; it satisfies food cravings as it clogs up the arteries. It  is notoriously rich, heavy, high in fat, salt and sugar. But, believe me, it does not have to be.
Introducing…  Guilt-free comfort food, with all the soul-comforting benefits and none of the health-damaging side effects.  Flavorful, creamy and light, Roasted Vegetable and Quinoa Salad, Cucee family's ultimate comfort food.
Roasted Vegetable and Quinoa Salad
Katya, this recipe is for you
Ingredients
Dressing
Salad
Directions
Dressing
To roast the garlic, preheat oven to 350 degrees. Using a knife, cut off 1/4 to a 1/2 inch of the top of garlic, exposing the individual cloves. Drizzle a tiny bit of olive oil and wrap in aluminum foil. Place on a cookie sheet and bake 30-35 minutes, or until the cloves feel soft when pressed. Set aside to cool, then squeeze the roasted garlic cloves out of their skins.
Combine the garlic, balsamic wine vinegar, honey, salt, lemon juice and mustard in a blender and puree until smooth.
With the motor running, slowly add the oil until emulsified. Season with salt and pepper.
Salad
To cook quinoa, bring vegetable broth to boil. Cover, lower the heat and  simmer for 12 to 15 minutes or until the germ separates from the seed. The cooked germ looks like a tiny curl. Remove from heat and let it stand for about 3 minutes.
To roast bell peppers, remove the stem from the peppers. Drizzle with Olive Oil. Slice into 1/2 or 1/4 pieces. Transfer to an oven safe dish and roast for 20~25 minutes at 350F.
To saute mushrooms, heat the butter or oil in a skillet over medium-high heat. Add mushrooms  and cook, stirring frequently to help any liquid the mushrooms give off evaporate quickly. Sprinkle with mushrooms with salt and keep cooking until mushrooms are tender and browned, about 5 minutes.
To saute tofu, cut tofu into one-inch pieces. Drizzle with honey. Saute for 5 minutes or until lightly brown. Turn, saute for a few minutes longer
To make the salad, in a medium salad bowl, combine peppers and mushrooms. You can also use any other roasted vegetables here (eggplant works great.) Toss with the dressing.
Add quinoa,  tofu and almonds. Toss lightly.
Serve warm or at room temperature.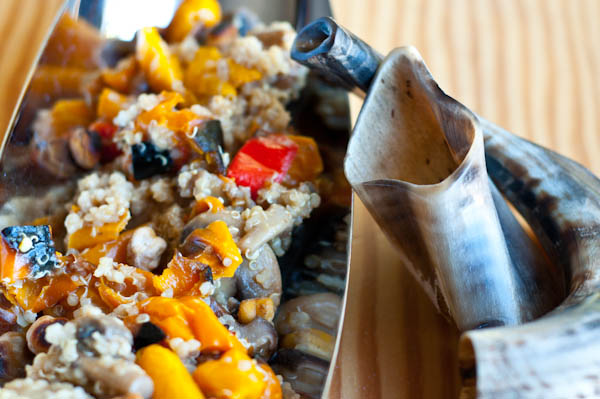 Wine Pairing
Parducci Small Lot Blend Chardonnay Mendocino County