"The wisdom of the ancients teaches us that there are appropriate times for both feasting on rich foods and for fasting on the simplest fare." Nourishing Traditions: The Cookbook that Challenges Politically Correct Nutrition and the Diet Dictocrats by Sally Fallon.
I don't know about you, but I generally crave richer foods on the days following intense workouts and lighter meals on the days of rest. In the winter, I get more of those rich food cravings than in the summer time. And there is no dish more capable to satisfy my latest seasonal craving than Uzbek Plov, a rice pilaf that is served on many occasions in countries of Central Asia. If you have never tried Plov before, I guarantee that you will find this mildly spiced rice, slowly stewed with onions, carrots, dry fruits, and lamb scrumptiously delicious.
Lucky for me, I have a friend who happens to be a true virtuoso of Uzpek Plov.  Here is Isabella, one of the best chefs I know, in her own words, "I was only 12 when I made my first plov. Having grown up in a country that is famous for this legendary culinary invention, I was always fascinated by the simple magic that goes into the making of plov. One day, I asked my grandfather to buy me all the necessary ingredients, locked myself in the kitchen and, 2 hours later, I created my first pot of plov. It turned out so good, that the news of my culinary abilities traveled fast across town and soon I was making plov for family, friends and even strangers."  Lucky for our readers, Isabella was kind enough to share her recipe on this blog.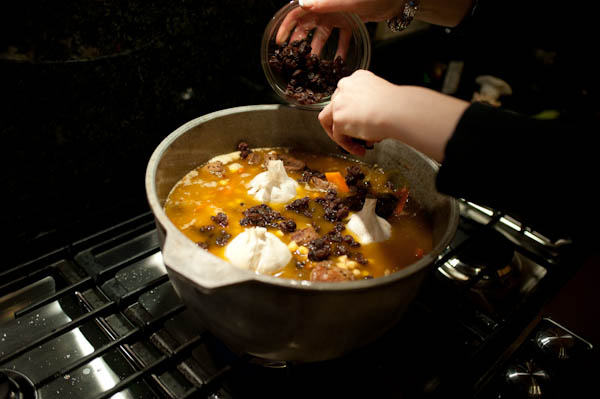 Uzbek Lamb Plov with Barberries and Raisin
Ingredients:
Directions:
Rinse rice a couple of times  in cold water at least 1hr before cooking. Mix with turmeric and let it soak in water until needed
Cut up the lamb into 1-1/2 inch cubes
Slice the onions into ½ inch slices
Julienne the carrots
Heat the oil in Kazan (or a dutch oven) until very hot, add the lamb and saute until brown
Toss in the onion. Cook for 5 – 7 minutes until onions are translucent and slightly golden
Add all salt, cumin and cayenne pepper
Toss in carrots, continue stirring
Add water, garbanzo beans, garlic, raisins and barberries. Bring to boil. Reduce the heat to medium and cook for 45-50 minutes.
Drain rice well and layer it over the meat, onions and carrots, spread it evenly but do not stir
Bring the heat back to high
Cover the pot tightly and let rice steam through for another 45-50 minutes without opening the pot. When done, the top grains should be slightly firm, and the bottom ones – well done, but not mushy. All water should evaporate, but not burn
Remove from heat and stir, bringing the bottom ingredients up to the surface
Cut the top off the garlic head, slightly exposing the garlic cloves
Enjoy plov with a side of tomato/onion salad
Liquer Pairing
Plov is traditionally served with shots of cold vodka. Isabella recommends Belvedere for its superior quality and lower probability for a morning hangover. She also suggests ending the meal with a cup of hot 
green tea
.