This year, I had my birthday party catered by Insalata's, a foodie-favored restaurant located north of San Francisco. A friend, who offered to deliver the food to my house on the night of the party, surprised me with a gift of a beautiful Insalata's cookbook.
By now, I've read the cookbook cover to cover. Twice. And bookmarked almost every page of it (pretty much all pork- and shellfish-free dishes.) The first recipe that caught my attention, Granola With Almonds and Coconut, is actually pretty famous – it is the restaurant's top ordered item on their take-out menu. The rumor has it that many Insalata's regular customers buy this granola – pounds at a time. Apparently, once you try this delicious breakfast offering, you are hooked for life. Home-made Granola Anonymous, here I come!
All jokes aside though, creating your own granola from scratch is surprisingly easy (and kind of fun!)  In the past few weeks, I've made this recipe 4 times, and every time I make it a little different. Mixing granola became a family affair – my kids really enjoy helping me design our own weekly blend and choosing all the ingredients. We've already experimented with a variety of grains (such as Oats, Quinoa, Amaranth, and Teff), seeds (such as Sesame, Flax, Sunflower, and Pumpkin), and dry fruit such as (Cranberries, Tart Cherries, and Blueberries). Our pantry is now well stocked with at least 2 different variations of this crunchy deliciousness.
Today, I am posting Insalata's original, which is still my favorite, but I suggest you play around with the ingredients to find your own perfect blend.
Granola With Almonds and Coconut
Adapted from Insalata's Meditaranean table by Heidi Insalata Krahling
Ingredients
Directions
Preheat over to 350 degrees. Line a baking sheet or half-sheet pan with parchment paper; set aside
In a large bowl combine the butter and honey to a boil over medium heat. Pour the honey mixture over the oat mixture; stir well to coat. Spread the granola evenly over the prepared baking sheet.
Bake, stirring frequently, until golden brown, about 30 minutes. Allow to cool to room temperature. Add the raisins; stir and break up any large clumps. Store, in an airtight container, for up to 3 weeks (yeah, right!)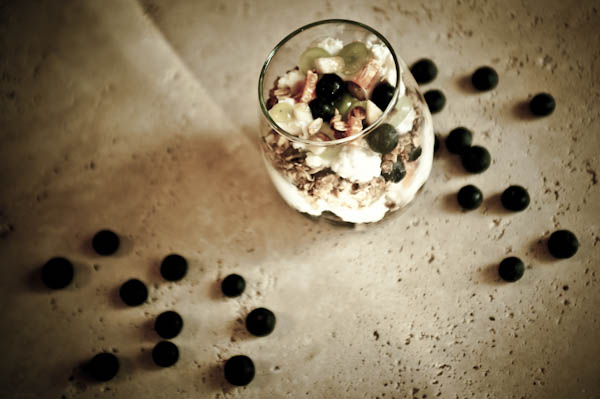 Drink pairing
My kids always ask for a glass of cold milk to mix into the granola, I layer it with Lifeway Kefir, homemade Farmers Cheese (recipe coming soon) and Berries, while my husbands enjoys it with Plain Greek Yogurt, honey and a cup of espresso