The other day, I went out to meet a friend for dinner. Last time we saw each other, I was freshly pregnant with my first. Needless to say it was time for us to catch up. We met at a tiny little Japanese restaurant out in San Francisco, in the Castro. 4 tables. 1 window. A waitress who is also a chef.
We ordered sushi, of course, homemade fresh tofu and their daily special, Walnut Miso Eggplant.
I've had Japanese before. I've had eggplant before. But never have I had an eggplant prepared like THAT. Anywhere. Of any cuisine.
I left the restaurant, already shuffling ideas in my head on how to recreate the dish. For the next few months, I tried out recipes that seemed probable, digging them out of magazines, cookbooks and websites. Nothing came even close. Either the sauce would taste too overwhelming or the eggplant would feel overly dry. I gave up.
And then, as it always happens when you least expect it, I came across this new cookbook! With yet another interpretation of the same dish. I had eggplants in the house, miso in the fridge and some time to kill. After thirty minutes of kitchen play, a glass of wine, and some background music, my search endeavor was complete. I FOUND MY RECIPE!!!! It was nothing short of perfection: the eggplant came out of the right texture, firm enough to cut with a knife yet so tender it melted in the mouth. The sauce – bold and flavorful, yet complementary, rather than overpowering.
Baked Eggplant with Miso
Adapted from Itsu the Cookbook
Ingredients
1 eggplant, cut into ⅓ inch slices
1 tsp sesame oil, for greasing
small bunch of cilantro, chopped
1 tbsp sesame seeds, preferably toasted, to sprinkle (optional)
Sauce
1½ tbsp miso
2 tbsp mirin
1 tbsp Sake
1 inch fresh root ginger, finely chopped or grated
2 spring onions, sliced
Directions
Preheat the oven to to 400 °F
To make the sauce, mix the miso, mirin and sake together in a large bowl to make a smooth paste. Stir in the ginger and onions.
Add the eggplant slices to the bowl and coat well with the sauce.
Grease a roasting tray with the oil and arrange the eggplant slices on it in a single layer so that they cook evenly. Bake for 20 minutes, or until soft and slightly brown. If the eggplant looks a little dry, add a splash of water.
Serve over quinoa or brown rice, sprinkled with the cilantro, plus the sesame seeds if you want some extra crunch.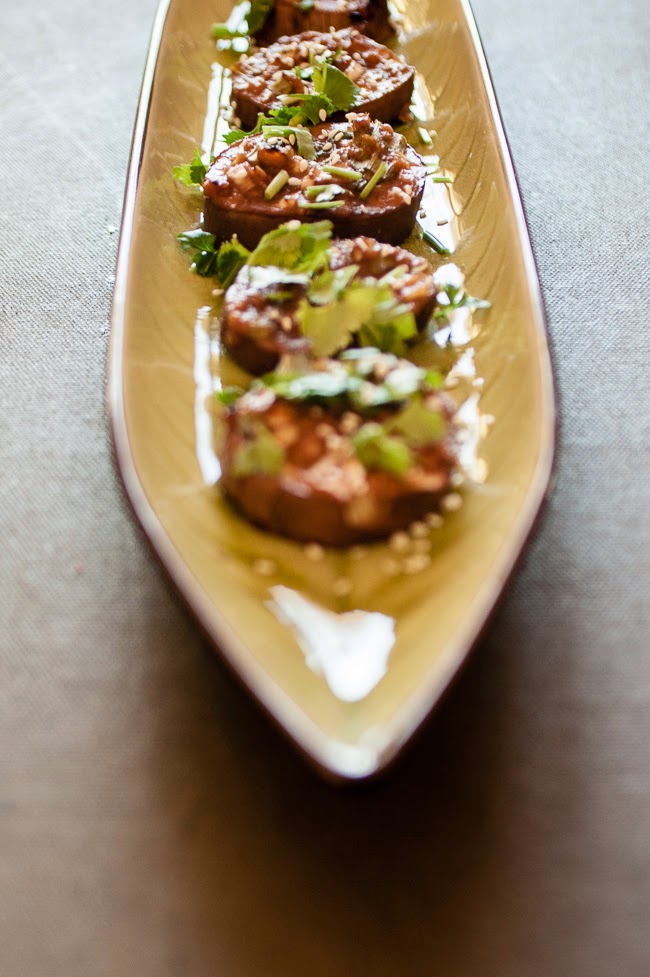 Drink Pairing
Don't get me started on this. Japanese food goes with Sake. Period. IF I am feeling particularly adventurous, I will pour myself some potato Shochu (a Japanese hard liquor, comparable to vodka, that I recently discovered when traveling Japan.)