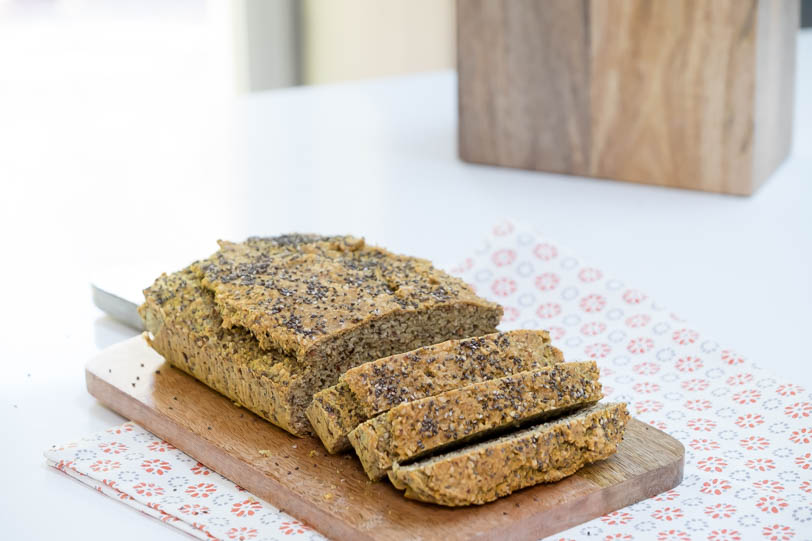 My daughter spent 3 weeks at a sleep-away camp and came back home with lots of beautiful memories and one major stomach upset! After weeks of listening to her camp stories and trying to get her stomach issues under control, it was time for a more aggressive medical intervention. So, in a blink of an eye, out went all inflammatory foods such as gluten, grains, legumes, prebiotics, caffeine, chocolate, sugar and dairy.
Needless to say, my girl was no longer a happy camper! A cheese lover, a chocolate addict, she was miserable on a new uber-restrictive diet. And on top of all that, the school has already started and my High-Schooler's lunches were so pathetic and embarrassing that she would intentionally forget them at home.
So I had to come to the rescue and research the heck out of my Paleo books and Facebook groups. I collected a dozen or so unique lunch ideas that a kid her age would not mind being seen with. Her favorite one was a bread recipe that made my daughter go from :( to a big wide :) in a matter of a bite.
This IS that bread recipe and it is so flexible and forgiving that you can make a new unique loaf of bread each time you bake it, by mixing in the nuts, olives, even roasted garlic! You can also turn it into a sweet delicacy without affecting the carb count by adding a bit of stevia, freeze-dried strawberries or bananas. See more fun ideas, following the recipe.
Low-Carb Paleo Bread
If you don't finish the whole loaf in one seating (I dare you), slice and freeze it. It is even better toasted.
Ingredients for the basic recipe
Instructions
Preheat the oven to 350°

Grind chia seeds in a coffee grinder or a Magic Bullet Blender (or purchase them already ground)
Pulse almond flour, coconut flour, ground chia seeds, sesame seeds, salt, and baking soda in a food processor

Pulse in eggs and vinegar, until combined

Transfer batter to a lined 7.5 x 3.5 loaf pan (you can use a regular loaf pan but your bread might not rise as much)

Sprinkle with poppy seeds

Bake for 30-40 min

Cool on a cooling rack for 30 min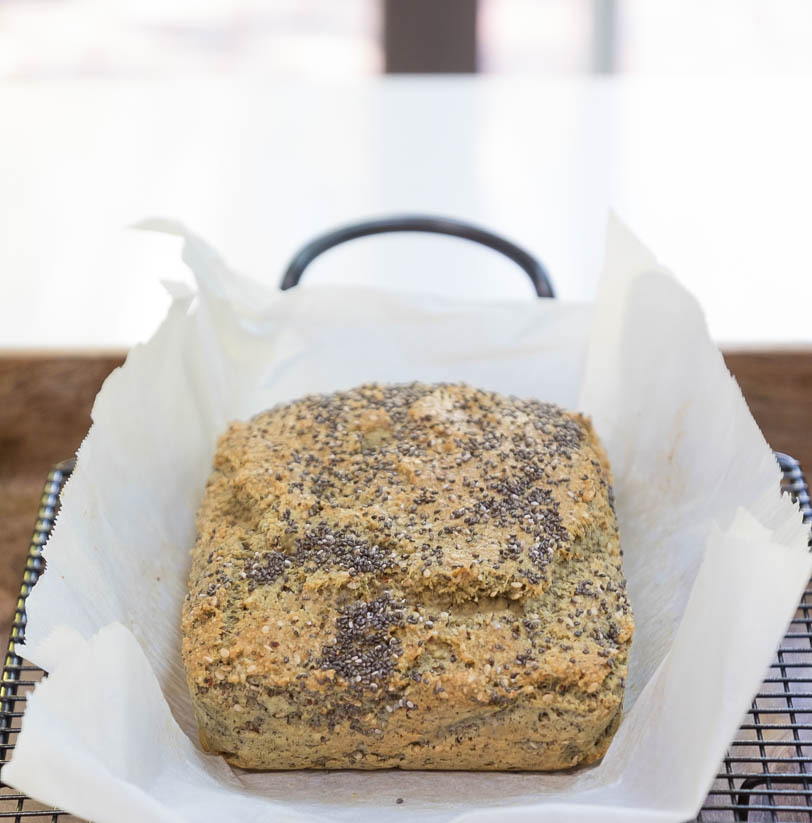 Variations
Breakfast Bread
Rosemary Olive Bread
Garlic Bread
Basic recipe 

10 cloves of  Roasted Garlic, halved
Italian Bread