As American as a Zucchini Cake.
I've lived and traveled all over the world, but only in the United States of America have I had a dessert with a vegetable in a starring role!
This summer, being blessed with a fridge full of zucchini, I made a whole lot of delicious zucchini dishes, some of which I've already shared with you on my blog. So when I got bored with the savory ideas, I decided to play American and turn the last of the zucchini into a cake.
All-American Zucchini Cake with Vegan Lime Frosting and Strawberries
Warning: if you are like me, you'll find yourself eating frosting with a spoon when no one is looking. So, because I love and care about you, I suggest keeping spoons in a locked drawer when working on this cake :)
Other variations: cake only (no frosting,) cake only with the addition of strawberries pieces, cake+cream cheese only, cake+strawberry toping only.
Cake
Vegan Cream Cheese Frosting
Strawberry Topping
Directions
Preheat oven to 350°F
Line a 9-by-13-inch baking pan with parchment paper (or grease with MCT oil)
In a medium bowl, whisk together the flours, xanthan gum, pumpkin spice, baking powder, stevia (if dry), salt, and zest
In a larger bowl, whisk together eggs, oil, and stevia (if liquid)
Combine the wet and dry ingredients, zucchini, and sunflower seeds (or nuts)
Move into the prepared pan and bake for 35-40 minutes. Cool on a wire rack
To make the frosting, beat together the frosting ingredients
To make the strawberry topping, mix together pureed strawberries, lemon juice, and stevia
To assemble the cake, spread the frosting over the top of the cake, followed by the strawberries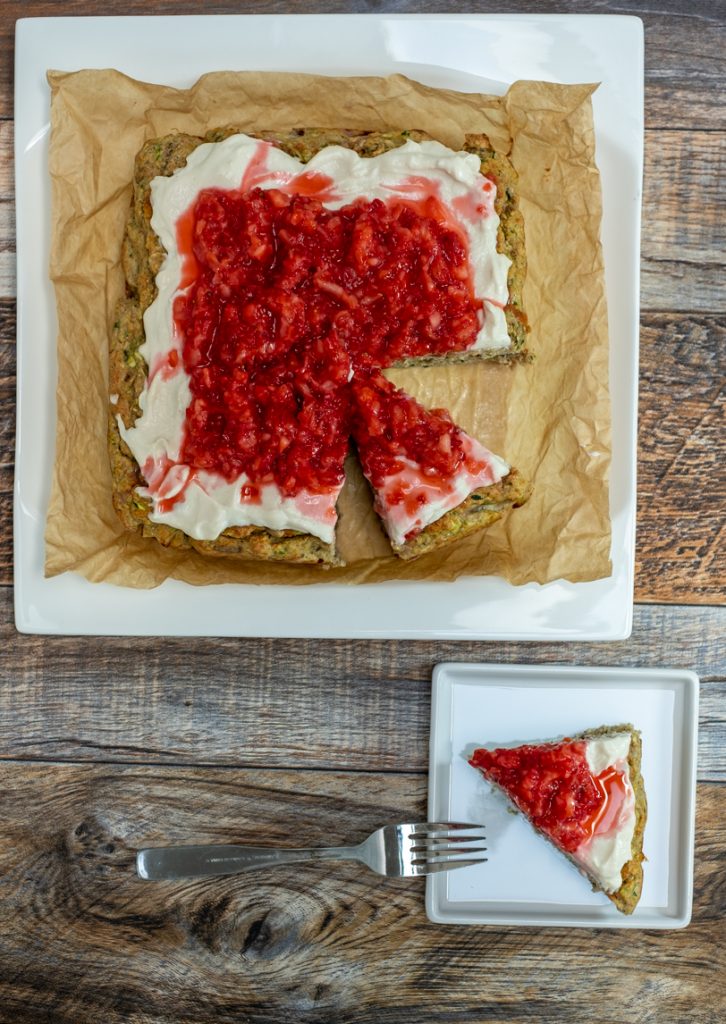 Drink pairing
When life gives you zucchini, you make Zucchini Cake. And you enjoy a slice (or two) with this delicious Earl Grey tea.