Many MANY years ago, my ex-husband and I were invited to his parents' house for dinner. His family was visiting from Chicago and his uncle Eugine (Женя) made us delicious egg-coated chicken.
You know it was good if I still remember it, over 25 years later.
I tried to recreate the recipe at home many MANY times. In his version, he coated the chicken in flour before drenching the whole thing in egg and frying low'n'slow. Without the flour, the egg just would not stick in my own experiments. So after multiple flour-free attempts, I gave up on the chicken, keeping it as a delicious yet distant memory.
A few days ago, I stumbled upon The 50 Best Recipes of 2020 article on Epicurious and one caught my eye – a Filipino Eggplant Omelet – mostly because I had about 100 large eggplants in my garage fridge, waiting to be consumed. It was 8 a.m. when the recipe piqued my curiosity. My kids, whose rooms are in close proximity to the garage, were still sound asleep and I did not want to awaken them to satisfy my curiosity. 
Suddenly, I remembered that I had a couple of already baked eggplant slices in the kitchen fridge from the Hanukkah party. So while the house was still quiet, I decided to try a technique described in the article on these prebaked slices.
It only took a few minutes. And as I bit into the eggplant, memories flooded my mind and belly. The eggplant, drenched an egg, was very reminiscent of Eugine's chicken, with an even better texture and flavor: salty, rich, vegetarian, crispy on the outside, creamy on the inside.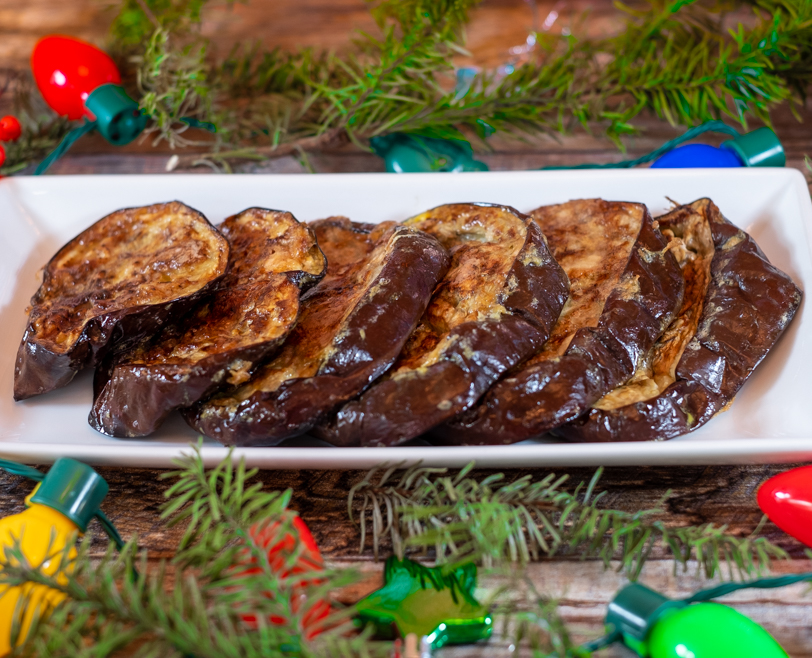 Eggplant Schnitzel
Ingredients
Directions
Preheat oven to 400F
Arrange the eggplant slices on an extra-large baking sheet in a single layer, brush with a tablespoon of Avocado oil, and roast for 30 min, or until soft and golden
Transfer the slices to the cooling rack and cool for 15 min or overnight
In the meantime, beat the eggs with a fork or a whisk. Transfer to a shallow bowl
Dredge each eggplant slice in the egg. Press on them and flip a few times to make sure the slices absorb enough of the egg. You can leave the slices in the bowl for 5-10 min to maximize the absorption
Heat 1/2 inch oil in a heavy bottom skillet
Salt and pepper on one side of the slices. Place 3-4 slices gently into the hot oil, salted side down, and season the other side
Fry the eggplant slices for 1-2 minute on each side
Wine Pairing
Well, if you are planning to make this for breakfast (and I highly suggest to), I'd serve it with this Earl Grey. But if you plan to serve it alongside a dinner protein, may I suggest this Cabernet?