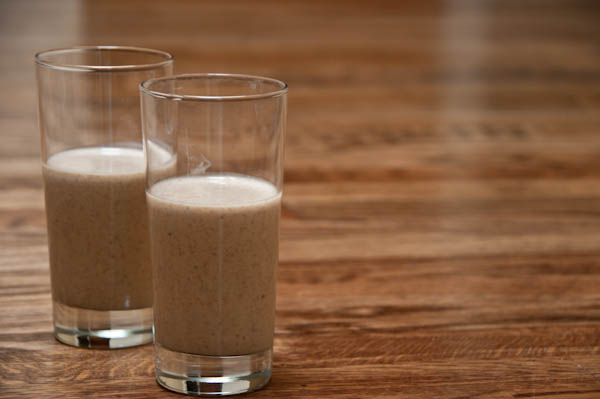 From pancakes to waffles to power shakes, our weekend always starts with a special breakfast. What's a special breakfast? Pretty much anything that is not cereal or oatmeal – we are easy to please…
With my kids, the tradition of a special breakfast now spans more than one generation. When I was little, my mom always treated me like a little weekend queen. My Saturday morning would begin with an elaborate omelet, Potatoes with Lox, or a Russian French Toast, called Grenki – my absolute favorite! Unfortunately, because of my son's severe egg allergies, eggs are not welcome in our house, so I do try to get creative with other tasty alternatives.
Our new special breakfast is Almond Butter Kefir Breakfast Smoothie. This deliciously scrumptious shake, which is low in fat and high in protein and fiber, has become everyone's favorite very quickly.  It's fresh, creamy, and sweet.  It will satisfy your hunger for hours without causing you to reach for a snack.  And most of all, it will deliciously trigger all the right taste receptors!
Almond Butter Kefir Breakfast Smoothie
Serves 2 small adults or very hungry children
Ingredients
2 bananas, sliced (fresh or frozen)
1 cup plain Lifeway Kefir (you can use other brands of Kefir or liquid yogurt as well, but I like the tartness of the Lifeway Kefir)
2 scoops Flaxseed Meal
2 tablespoons creamy almond butter
Honey (optional, to taste)
Directions
Put all ingredients into your favorite blender. NOTE: If you use a blender frequently, I highly recommend investing in a powerful blender, such as Vita-Mix.  I have had my Vita-Mix for over 11 years and it has been one the most used appliance in my kitchen – I use it to chop vegetables, cook soups (yes, cook, it spins so fast that it boils water in 7 minutes), make almond butter or ice cream, grind grains for fresh flour and even neat dough.
Puree, until smooth and creamy. Add more kefir if needed to achieve the desired consistency. Sweeten to taste with honey.
Pour into the serving glasses and don't forget the straws. Another NOTE: Don't let this delicious smoothie sit in a glass for too long; it tends to separate into layers, which is an interesting physical phenomena to observe, but with flax sunk to the bottom, makes the smoothie not so smooth.