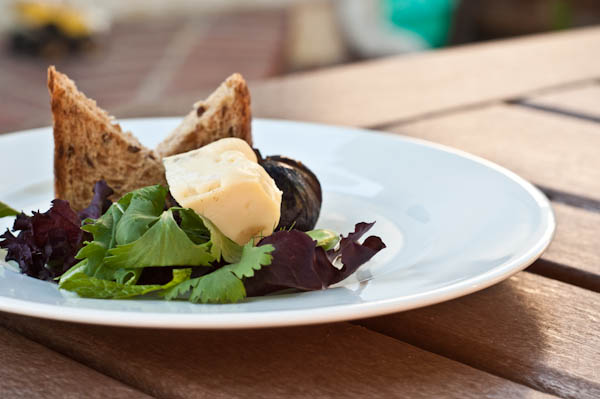 This summer salad is a hit at every gathering. It's one of my most requested recipes.  Slightly tangy vinaigrette truly compliments the sweetness of the caramelized figs.
Caramelized Roasted Figs with Baby Greens and Honey Vinaigrette
Top 5 recipe on FoodBuzz
Adapted from FoodNetwork.com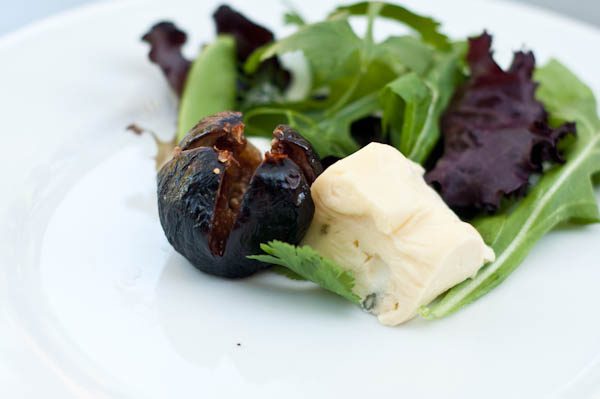 Ingredients
4 small fresh black mission figs, stemmed
Extra-virgin olive oil
Kosher salt and freshly ground black pepper
3 tablespoons honey
1 tablespoon warm water
1/2 lemon, juiced
2 cups baby mixed greens
1 handful each assorted fresh herbs, finely chopped (my favorites are basil, chives and cilantro)
4 ounces gorgonzola, cut in big chunks (works just as well with goat cheese)
Directions
Preheat the oven to 400 degrees F.
Cut a small "X" in the top of the figs and squeeze it gently to crown it slightly. Put the figs on a sheet pan and drizzle them with olive oil. Bake until the figs are soft and caramelized, about 15 minutes.
Put the mixed greens and chopped herbs in a bowl, drizzle with a little olive oil and season with salt and pepper; toss gently with your hands.
In a small bowl, combine the honey, warm water, and lemon juice; whisk with a fork to combine.
To serve, divide the greens between 2 plates, mound the chunks of gorgonzola cheese on the side of each and place 2 roasted figs in the center of the salad. Drizzle the whole thing with the warm honey vinaigrette.
I love everything figs and I use them often in salads. I found many inspirational ideas in a wonderful recipe book – Salad Dressings, by Maren Caruso
Wine pairing:
The classic Gorgonzola match is Riesling, so I like pairing this salad with a crisp fruity wine. Try with an 86-point Riesling