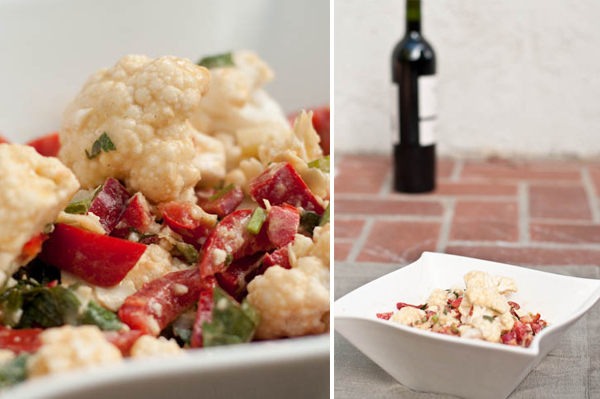 My name is Cucee Sprouts and I am addicted to Cauliflower. There are many chocoholics, carboholics, sushiholics out there. Well, I am a Cauliholic.
I have all the signs of being an addict:
I cannot go for more than a week without a cauliflower dish
I cannot be trusted around cauliflower – I can finish two days worth of it in one sitting
I have to have at least one extra head of cauliflower stashed in my fridge, just in case (currently, I've got 3)
I can be talked into all sorts of unorthodox behavior while enjoying my cauliflower. On Thursday, my kids talked me into baking a desert – at 9 pm!
I constantly search for new cauliflower recipes, even though I already have close to 30
Well, it's Monday and the week is off to a good start. Tonight, we are having a Mediterranean dinner. The star of the meal – Marinated Cauliflower. Slightly tangy, tastefully crunchy, and refreshingly light, it has become a favorite of many that tried it, including my sister-in-law Svetlana. Sveta, this recipe is for you!
Marinated Cauliflower Salad Recipe
Adapted from September 2010 issue of Vegetarian Times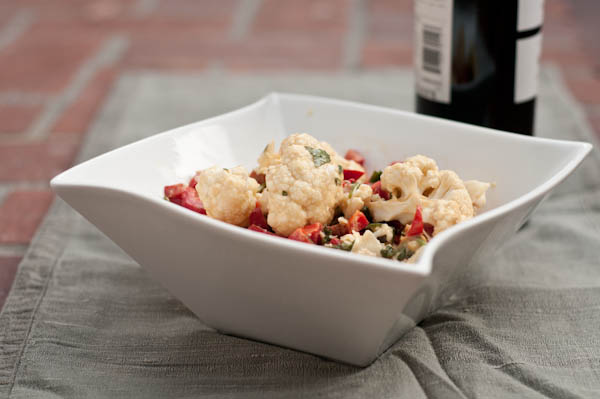 Ingredients
2 tbsp lemon juice
1 tbsp mustard
1 clove garlic, minced
1 tsp olive oil
8 oz cauliflower
1 large red bell pepper, finely diced (but you can use a lot more – just double the dressing if you do)
2 tbsp parsley, chopped fresh
2 tbsp Parmesan cheese (optional)
Directions
Whisk together lemon juice, mustard, garlic and oil in small bowl. Toss with cauliflower in large nonreactive bowl, cover and refrigerate 4 to 8 hours. Stir 1 or 2 times while marinating.
Stir bell pepper and parsley onto marinated cauliflower. Sprinkle with shaved Parmesan.
Wine pairing
Believe it or not, we are not having wine tonight. With all the Rosh Hashanah celebrations and birthday parties, we have drunk way too much wine last week and need a greatly needed break. However, I still have a perfect suggestion for wine – a crisp, fruity and memorable Riesling