I have been having some major childhood-food cravings over the last few weeks. I don't know exactly what triggered my culinary nostalgia.  Could it be this unusually cold and rainy for this time of year weather? Or perhaps my grandma's recent passing? Whatever it was, it just felt like I needed something comforting and warm on the table.  So, when my mom volunteered to write down a recipe of one of my childhood-favorite soups, I was thrilled
She sent me a recipe of Soup Kharcho via email (her next endeavour – facebook!)  The email was in Russian and looked something like this, "Boil some meat, saute all the vegetables, combine all the ingredients, season to taste, simmer until everything looks done."
Chuckling, yet totally confused about how I was going to publish such imprecise sequence of culinary actions, I immediately called my mom for more detailed instructions. Later that week, my mom and I made this soup together twice to nail down the proportions. I promise you, this final recipe is pretty darn close to the soup that I hold vividly in my memory.
The popularity of this traditional Georgian stew has penetrated all corners of the former Soviet Union and, if you have never tasted Kharcho before, I assure you won't be disappointed.  The combination of smooth and delicate beef broth with neutral rice, tangy lemon juice and spicy seasoning creates the taste and fragrance that are very characteristic of the soup. There are numerous regional variations of the Georgian Soup Kharcho, but I bet all the veggies in my fridge that my mom's is the tastiest!
Note: Kharcho, like most stews and Eastern European soups, tastes best the next day, once the flavors settle. I like to eat it with or without the fresh herbs (depending on my mood) out of a large bowl, accompanied with warm and toasty garlic bread.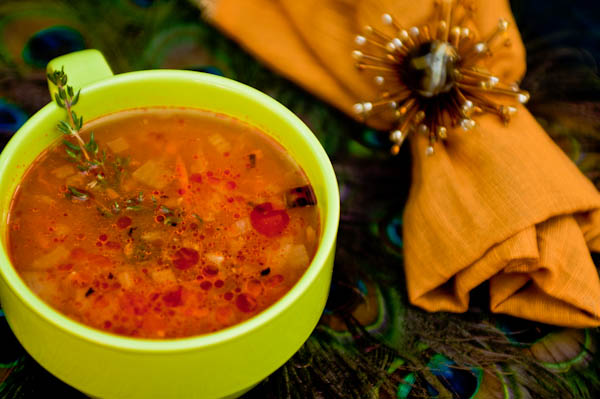 Soup Kharcho (Georgian Beef, Rice and Fresh Herbs soup)
Ingredients:
3 lbs boneless beef chuck
14 cups water
3 tbsp Canola oil
2 medium onions, finely chopped
5 large carrots, grated on the large holes of a grater
2 stalks celery, finely chopped
2 cans Italian Stewed Tomatoes
1 cup long-grain rice
3 medium size red potatoes, peeled and diced into 1-inch cubes
1 ½ tsp Sweet Hungarian Paprika
Salt and pepper, to taste
10 large cloves garlic, crushed in a garlic press
1 cup chopped fresh herbs (green onions, cilantro, basil, parsley and/or dill) to taste
Fresh-squeezed lemon juice to taste
Directions:
In a large soup pot, bring the meat and water to a boil over high heat, skimming off the foam as it rises to the top. Reduce the heat and simmer, partially covered, until the meat is very tender, about 1 ½ hours. Remove the meat and cut into bite-size pieces. Add meat back to the pot.
In the mean time, heat the oil in a skillet over medium heat. Add the onion, carrot and celery, and sauté until slightly softened, about 10 minutes.
Blend tomatoes in the blender. Add to the skillet and sauté everything for another 10 minutes.
Add potatoes to pot. Simmer for 10 minutes. Add sautéed vegetables to pot together with the rice, and simmer, covered, for about 10 minutes. Season with salt and pepper to taste. Add ½ the garlic and simmer for another 35-40 minutes.
Remove the soup from the heat. Check the seasonings and adjust if needed. Discard the bay leaves. Add ¼ cup of the fresh herbs (my favorites are cilantro and green onions), ½ the garlic and lemon juice, and let stand for 1-2 hours. Right before serving, add the remaining fresh herbs to each individual bowl.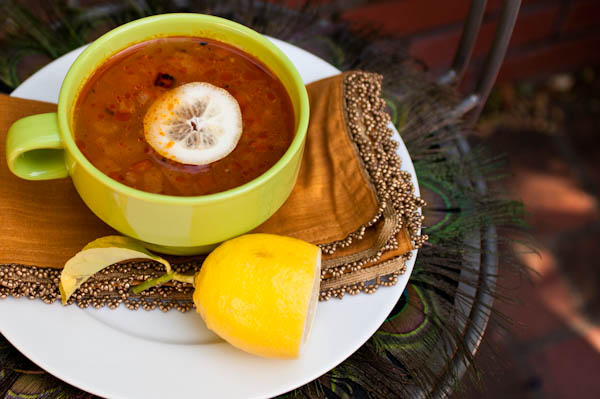 Wine pairing:
I served Kharcho with a bottle of Grgich Hills Zinfandel 2007 and I loved the pairing of the two. A friend of mine, who tasted my soup, suggested Cabarnet Sauvignon for its less spicy nature. My most favorite Cab right now is a bold and assertive 94 pt Franciscan Cabernet Sauvignon 22007 that I get at my local Costco, but you can also pick up a bottle at wine.com