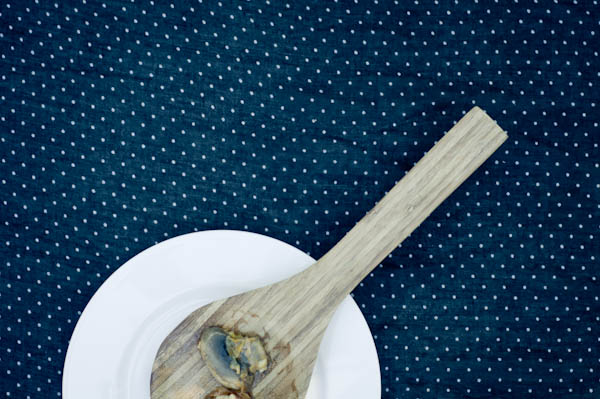 My 6-year-old son has been known to forget. No, he does not have ADD or ADHD, or any other abbreviated disorder. He is just a happy kid with a condition that I call "selective forgetfulness."
He clearly always remembers:
to ask for a desert after dinner, e-v-e-r-y   s-i-n-g-l-e  d-a-y
to leave a trail of toys behind as he travels from one room to another
to sing I Need a Doctor, in both Eminem and Skylar Grey voices, naked in a shower
that Saturday is  pancake day
But he is notorious at forgetting:
his backpack on the way to school, and lunch box on the way home
to look forward as he walks into a pole
to put shoes on before walking out the door
to clean up – in the midst of cleaning up
how to spell his middle name
to use an indoor voice at 6 in the morning
Yes, Jacob is well known for his easily-distractible, forgetful, dreamy, spacey self.
But yesterday at dinner, with his mouth full of beans, mushrooms and caramelized onions, Jacob forgot to chew.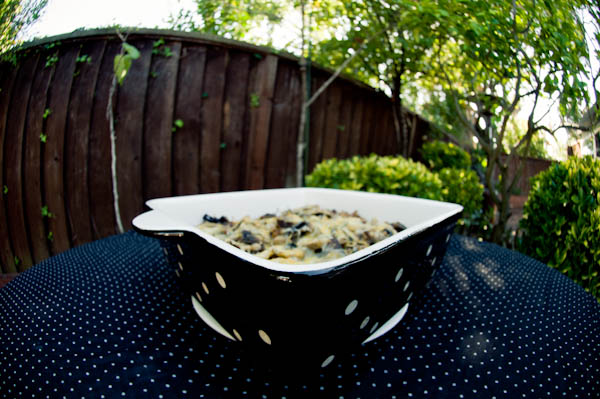 Caramelized Onions and Mushroom bake
Adapted from The Stone Soup
Ingredients
5 onions, sliced into half-moons
2 lbs. button mushrooms, sliced
1 cup dry organic barley
4 springs thyme, leaves picked
2 cups organic dry white beans (or 3 cans, drained)
1 cup vegetable stock
10 oz. grated cheddar cheese (more or less to taste)
salt and pepper to taste
Directions
To caramelize onions:
Heat a few teaspoons of oil in a large frying pan set over medium heat and cook onions, stirring occasionally until golden, about 25 minutes. Add more oil as you need it.
Add thyme to onions and season with salt and pepper to taste. (This step can be done in advance).
To cook mushrooms:
In a different large frying pan, heat a 2 tablespoons of oil and cook mushrooms, stirring every few minutes to make sure they don't burn.
After a few minutes, you'll notice sheen of moisture in the bottom of the pan. Continue cooking and stirring occasionally until all the moisture has evaporated and the pan is dry. Mushrooms are ready when they turn a deep golden and reddish-brown. (This can step can also be done in advance.)
To cook barley:
Bring 3 cups of water to a boil. Add barley and stir well. Cover the pot and reduce heat to low.
Cook for about 35 to 40 minutes. (This too can be done in advance.)
To cook beans:
In a large pot, cover beans by 2 inches with cold water and bring to boil.
Reduce heat, cover and simmer, gently stirring occasionally, until beans are tender, 1 to 1 1/2 hours.
To assemble:
Preheat oven to 400F
In a large mixing bowl, combine beans, mushrooms, barley, onions, and cheese. Mix.
Spread in a thin layer in a large heatproof dish.
Pour the stock over.
Season with salt and pepper to taste.
Bake uncovered for 25-30 minutes or until golden and bubbling. Watch for the liquid – it should all evaporate.
Shortcut 1: If you precook your mushrooms, onions and beans (or use canned,) this makes a very quick weekday dinner. I usually double the recipe and bake it in 2 dishes; the leftovers  can be reheated in a microwave or in the oven with a little water or broth the following day.
Shortcut 2: If you are r-e-a-l-l-y pressed on time, forget about mushrooms and barley. Caramelize the onions, open 3 cans of beans and mix these with cheese cheese. Reduce your broth by ½, bake and enjoy!
Wine Pairing
Of course I would have gone red here if I could, but the hearty cheese nature of the dish really called for a rich white wine. I had a bottle of  Parducci Pinot Gris in my wine fridge and its waxy consistency with hints of  sweetness and earthiness accented the bake nicely.