The very first dish I ever attempted to prepare myself was a beer-can-chicken (well, actually , glass-of-water-chicken.) As a child, I watched my mom make it often and loved how flavorful, succulent and juicy the chicken would consistently turn out. So, when my boyfriend, the guy I often refer to as "the husband" in my Cucee posts, came over one time, I decided to impress him with this childhood favorite of mine. At 17, with my parents at work, and, for the first time ever, I had a real interest in using the kitchen, all by myself.
I put on an apron, grabbed the chicken by the legs and plunked it over a glass of water. I generously rubbed the skin with every type of seasoning I could find in my mom's pantry and popped the chicken into the hot oven – just in time for a doorbell ring.
A familiar scent filled the house, indicating that everything was going smoothly and the chicken was cooking. I peaked into the oven and saw a headless golden-crusted bird torso staring back at me.
15 minutes and a few minor burns later the anticipated chicken was disassembled and presented at the dinner table on a large polka-doted serving tray, as a messy pile of meat, skin and bones.
As I took my first bite, several valuable lessons were instantaneously burnt into my brain:
Never  cook without a recipe when cooking for the very first time
… especially when expecting a company
Salt does not equal flavor
For the next 15 years or so, I've mostly cooked from recipes, which I followed to the T, measuring and weighing ingredients each time. I mastered a few favorite dishes and only then have I become comfortable with cooking from memory and inventing my own recipes.
I am proud to say that this week's recipe is all mine.  The inspiration came over dinner, at a small Italian Ristorante in Seattle. A little lime juice, a few smokey roasted peppers, creamy avocado, herbs and spices – and the first original Cucee salsa was born. It is a pretty versatile dish and i serve it with anything really, whether it is fish, salads, or even sandwiches.
Cucee-green Salsa
Ingredients
1/2 Avocado, diced
2 poblano chiles, sliced in half lengthwise, seeded
1 jalapeno, sliced in half lengthwise, seeded
1/4 cup extra virgin olive oil
3/4 cup onion, chopped
1 cup cilantro leaves
1/2 tsp ground cumin
juice of 2 limes
1 1/4 tsp salt
4 tbsp water
Directions
Preheat the broiler. Place pepper halves, skin sides up, on a foil-lined baking sheet. Broil 15 minutes or until blackened, turning frequently. Place in a paper bag and let stand at least 10 minutes.
In a blender or food processor, combine the avocado, roasted chiles, oil, onion, cilantro, lime juice, cumin, salt and water. Puree until smooth, and serve over anything you like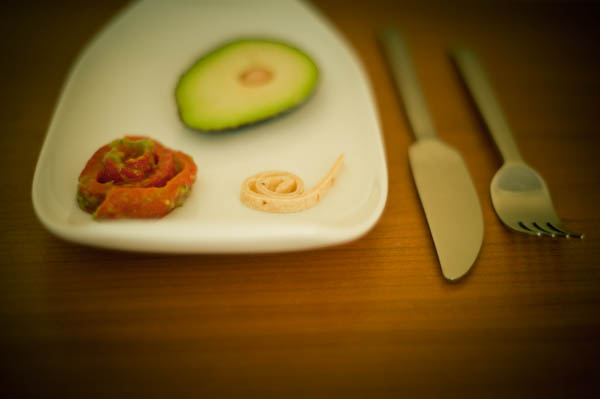 Wine pairing:
The choice of wine truly depends on the type of the food you are serving Cucee-green Salsa with. If it is fish or seafood, I'd definitely go for a glass of crisp and elegant
Sauvignon Blanc
. If it is Mexican food that you are in the mood for, slightly fruitier
Chardonnay
would do the trick.