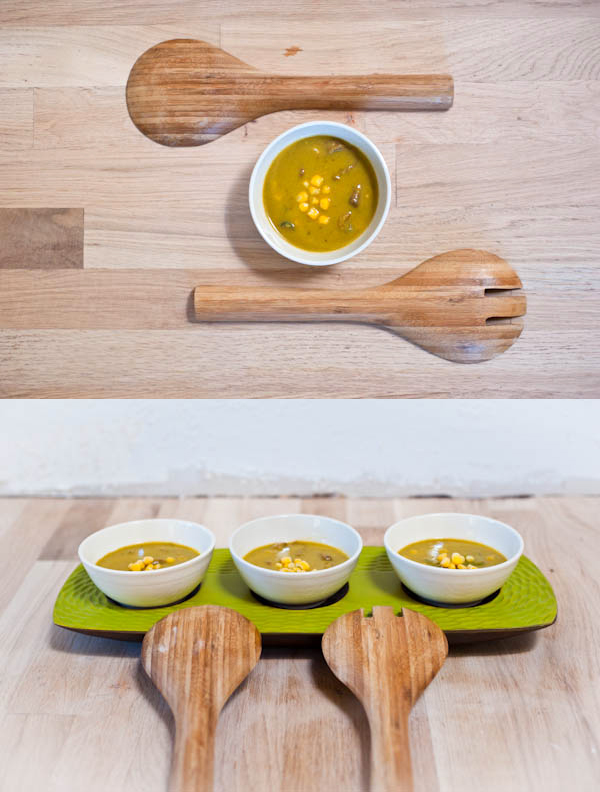 Cucee loved to cook, Cucee lived to cook. Cooking was a creative outlet, a form of meditation and self expression. In a community, the aspiring chef was well known for amazing culinary abilities and an authentic desire to serve others. But no one ever suspected that even Cucee sometimes dreamt of being waited on, cooked for, and exposed to new flavors.
Cucee has been dying to go out to a restaurant for quite some time and, one day, decided to finally follow the dream. Sharing with no one but the family, Cucee escaped to a secluded trattoria in a neighborhood where no one knew of the famous chef. Forgoing the menu, curious Cucee threw caution to the wind and put the entire dinner's fate into the waiters hands.
At first, Cucee ate slowly, unsure whether the food would taste as good as that at home. But with each new bite, Cucee enjoyed it more and more. The food at trattoria tasted new and exciting, complex yet perfectly balanced, light yet filling. Taken completely by surprise, young Sprouts recognized that eating out is actually pretty darn fantastic. So, with parents' and sister's blessings, Cucee decided to do it again… and then again… and again… and again… And before long, Cucee became a regular at the trattoria, frequenting the restaurant on almost bi-weekly basis. The novel unfamiliar ingredients started looking far more appealing and intriguing than good old carrots, celery and onions. Slowly, the young gourmand became less interested in the act of cooking and, at times, was even envisioning giving it up altogether…
But as satisfying and alluring as eating out seemed, it did not come without a price. Everyone in the neighborhood started getting suspicious of the Sprouts family, asking questions, gossiping, complaining, spreading rumors… Cucee started feeling guilty – guilty for betraying the family recipes, the kitchen; guilty for starting to loose interest in cooking, for not wanting to entertain as often; guilty for gaining all that extra weight.
Cucee was getting depressed from living a double life. And so, the young Sprout was faced with a choice: remain true to his past and "cook in" for the rest of Sprout's life or embrace a new lifestyle and continue "eating out."
P.S. Who is this curious Cucee and where does he come from? If you'd like to know more about the aspiring chef and the whole Sprouts family, go back to the beggining of times and read the "Brussels sprouts" post…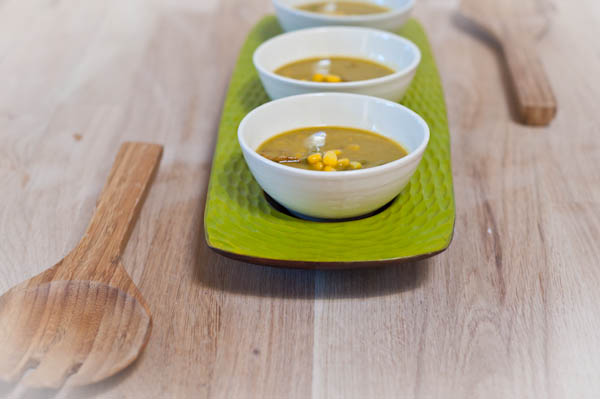 Creamy Poblano Chile Soup With Corn and Chanterelle Mushrooms
Adapted from Williams-Sonoma Collection: Mexican
Comforting as ever, this soup is a food for the winter as the weather gets chilly. You can serve it on its own with a slice of textury cornbread, or as a starter course to any Mexican-themed holiday menu.
And even though this looks like a good old corn chowder, corn chowder it is not! This Williams-Sonoma recipe contains no heavy cream or flour – yet tastes silky smooth with a ted of kick and smokiness.
This recipe is so good that I usually double it!
Ingredients
Directions
In a dutch oven, or other large pot over medium-low heat, heat the oil. Add the onion and saute until golden and soft, about 2 minutes. Add the garlic and cook for 1 minute longer. Raise the heat to medium and add 1 cup of the corn, half of the chiles, and 1 cup of the vegetable stock. Bring to a simmer, stir in the oregano, and cook, uncovered, until the corn is tender, 10-15 minutes. Remove from the heat and let cool slightly.
Ladle the corn mixture into a blender with 1/2 cup of the remaining stock and process until smooth. Pass the mixture through a medium-mesh sieve back into the pot. Add the remaining stock and bring to a simmer over medium-low heat.
While the soup is heating, in a frying pan over medium heat, melt the butter. Add the remaining poblano chiles, the remaining corn, and the mushrooms and stir well. Season to taste with sea salt and pepper and saute until the mushrooms release their liquid and then the liquid evaporates, about 8 minutes (this may take longer if you are using other mushrooms, such as crimini).
Add the mushroom mixture to the soup, stir well cover, and simmer for 10 minutes to blend the flavors. Taste and adjust the seasoning with sea salt and pepper.
Ladle the soup into warmed bowls and garnish with the cheese. Serve at once.
Wine Pairing
There are no hard rules for pairing wine with soups, so I generally experiment until I find the right match. I am a red-wine drinker, and I feel like
Sin Zin
(my favorite zin in the entire world!!!) enhances a bowl of this soup infinitely better than any other red out there!