Let's play a game – last meal on earth, what would yours be? Mine would be a cheesy toast, made with warm home-made crusty bread.

In another life, when my gut was healthy and my kitchen upgraded to include a steam oven, I baked almost daily. And there were nights when freshly baked bread constituted our dinner. And the best dinner it was!

It has been many years of breadless life for me. I've baked my way through a lot of recipes but every keto "bread" that I'd pull out of the oven tasted like yet another version of a savory cake. In fact, I have shared one of those recipes with you a few years back and, even though it is delicious, it tastes nothing like real bread.

So I continued experimenting, in the search for a better match. And one of those experimentations landed me with this very recipe.

This bread tastes JUST. LIKE. BREAD! Real "whole-wheat" bread! With a crusty outside and a soft fluffy inside.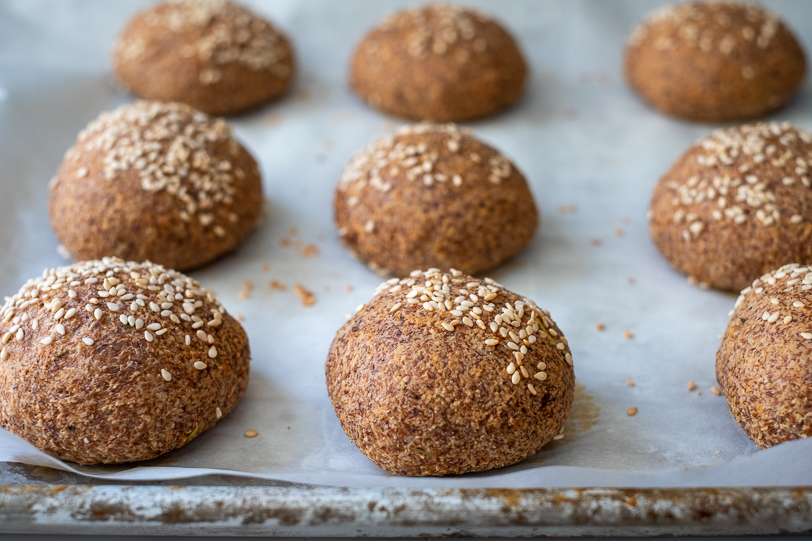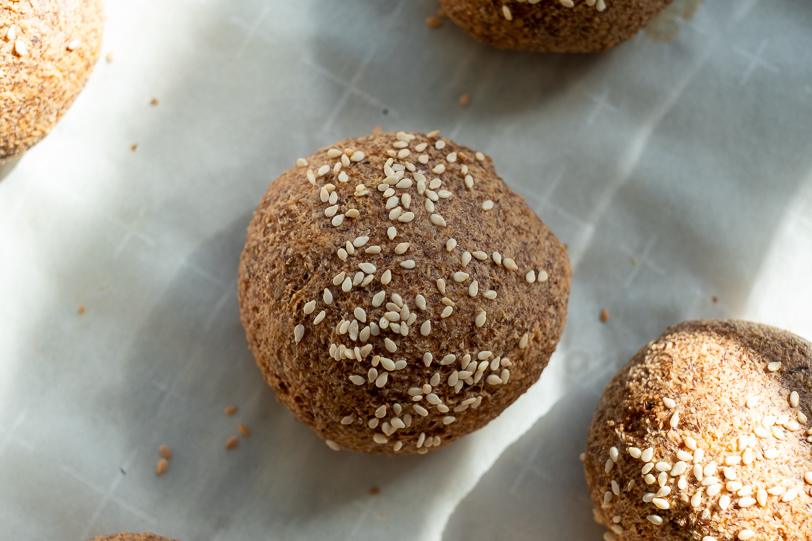 "Whole-Wheat" Keto Bread

A few notes on psyllium husk powder. There is no substitute for this magic ingredient – it is this psyllium husk powder that acts as gluten in this recipe. You also need to use the powdered form of it, not the flake form. If you accidentally purchase the flakes, grind them until they resemble a fine powder.

You can bake these into buns or a loaf. The world is your oyster – experiment.

If you want to experiment with textures or flavors, you can substitute water with marinara sauce. Or replace the sesame with poppy seeds, everything-but-the-bagel, or seaweed salt flakes.
Ingredients
Instructions
Preheat the oven to 350°F
Bring the water to a boil
Mix the dry ingredients in a large bowl
In a separate bowl, mix the egg whites and vinegar. Pour them into the dry ingredients and mix to combine
Slowly pour in the boiling water and continue mixing. The dough will start out runny but quickly thicken up as it absorbs the water. The consistency should resemble Play-Doh
Moisten hands with a little olive oil (or wear kitchen gloves, which is what I do) and shape your dough into 6-7 balls for burger-size buns or 9-10 for dinner rolls
Place the balls on a baking tray, lined with parchment paper. Optionally, top with sesame seeds
Bake on the lower rack in the oven for 50–60 minutes, depending on the size of your bread rolls. They're done when you hear a hollow sound when tapping the bottom of the bun
These buns should be refrigerated after 24 hours. They also freeze well. Toast them in the oven for a few minutes each time you serve them.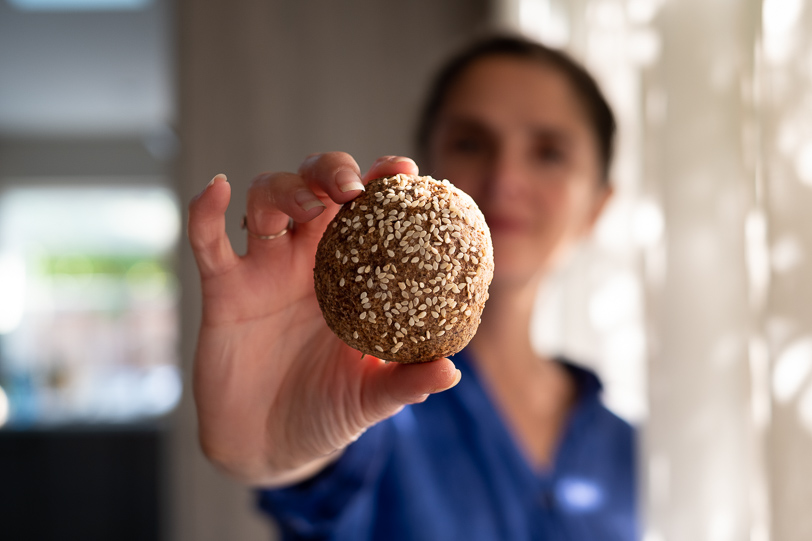 Drinking pairing

Whether you are serving these as an appetizer or with your dinner, I'd recommend going either with one of these natural wines: a rich medium-bodied organic Salcheto Chianti Biskero ($13.99) or a light-bodied Camp Wines Zinfandel ($16.99)

(Join GoodEggs by following this link and get a $25 credit towards your next purchase.)