I love zucchini like nobodies business. The last summer-squash recipe I shared with you, Zucchini Butter, I literally made and enjoyed for weeks in a row. 
Zucchini Fritters is probably my second most favorite way to serve this low-carb vegetable. But I rarely make the dish because of how long it takes to draw all the water out of Zucchini's vast internal reservoirs (did you know that it is 95 percent water!) Even with the quarantine working-from-home, I just don't have that extra hour to spend hunched above the sink, squeezing a handful of zucchini at a time. 
So… I came up with a quicker way to remove the water from Zucch, by quickly pan-drying the shredded veggie before shaping it into patties! I now use the same technique on riced cauliflower and broccoli. 
Welcome :)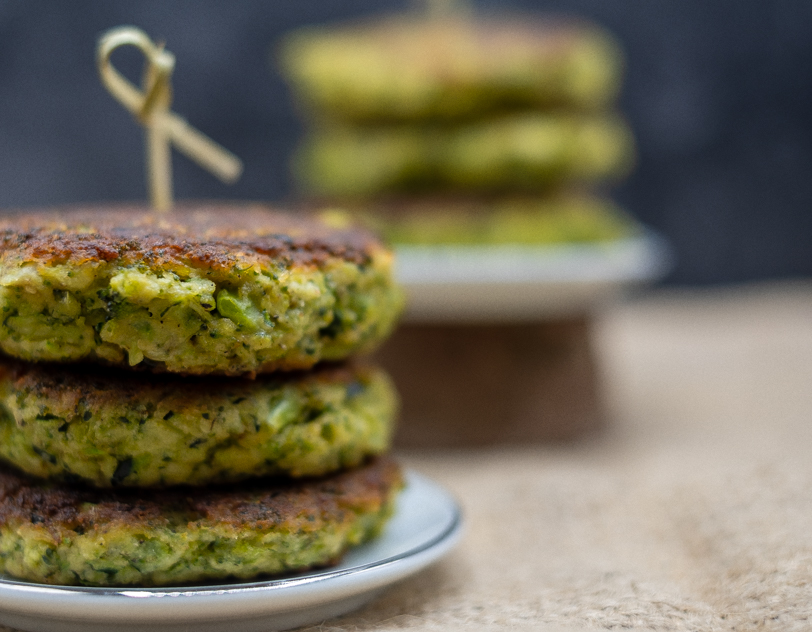 Twice-Fried Zucchini and Broccoli Fritters
Ingredients
Directions
Heat oil over medium-high heat in a large skillet until hot
Season the shredded zucchini and broccoli with sea salt, pepper, and thyme, and add to the pan. Cook, tossing often, for 3-5 minutes, until the vegetables are just tender
Turn the heat off and move the vegetables to the bowl to cool. Clean the pan
Add the egg and the coconut flour to the cooled vegetables. Stir well to combine
Using hands, form mixture into small flat patties
Heat oil, again, over medium-high heat
Add the patties to the pan, without overcrowding, and cook each side for 3 to 5 minutes or until nicely browned, flipping half-way, carefully, so the fritters don't fall apart
Serve warm
Drink Pairing
I am more of a red-wine connoisseur but every once in a while, I reach for a glass (or two) of this crispy Brut Rose. It is a lil bit pricey but way worth the sip!