Top five glimpses into the character of my 5-year-old son Jacob:
At the dinner table. Jacob: "Mommy, this soup is spicy. Can I have some wine?"
"Lizard of Oz,"said Jacob.
My 7-year-old daughter Mika needed to measure 3 tablespoons of liquid for her science experiment. She asked Jacob for help. He returned with 3 table spoons.
During a service at the synagogue.  Everyone is singing along with the rabbi.
"Jacob, why aren't you singing?"  Jacob: "Oh, I need a guitar for this."
"Jacob, would you like to go see Annie, the musical?" Jacob, "Is it on Blu-Ray?"
Happy Fifth Birthday, honey!
Simple and Healthy Vegan Vanilla and Agave Nectar Cupcakes
Adapted from Vegan Cupcakes Take Over the World
Makes 12 cupcakes
Ingredients
2/3 cup soy milk (I've used rice milk and regular milk as well)
½ teaspoon apple cider vinegar
2/3 cup organic light agave nectar
1/3 cup canola oil
1 ¼ teaspoon vanilla extract
½ teaspoon almond extract
1 1/3 cups all-purpose flour
¾ teaspoon baking powder
½ teaspoon baking soda
¼ teaspoon salt
Rich Chocolate Vegan Ganache Topping or Cream Cheese Frosting (see both recipes below)
Directions
Line muffin pan with cupcake liners and preheat oven to 325 F.
Mix the soy milk and apple cider vinegar in a large bowl; allow to sit for a few minutes to curdle.
Beat in agave, oil, vanilla, and almond extract.
Sift in the flour, baking powder, baking soda, and salt and mix until smooth.
Fill the liners two-thirds full. Bake 20-22 minutes until a toothpick inserted into the center of a cupcake comes out clean.
Remove cupcakes from the oven and let them cool in the pan for 5 to 10 minutes. Then transfer them to a cooling rack to prevent sogginess.
Cool for at least an hour before topping or filling.
Smear liberally with Chocolate Ganache or Cream Cheese Frosting.
Cream Cheese Frosting
Adapted from Hello, Cupcake!
This makes a lot of  frosting – a whole 3 1/4 cups. If you are planning to mount frosting heavily onto cupcakes, go ahead and make a whole batch. Otherwise, I suggest only making half.
Ingredients
1 package (8 ounces) cream cheese, softened
1 stick (8 tablespoons) unsalted butter, softened
1 box (16 ounces) confectioner's sugar
2-3 tablespoons milk
1 teaspoon vanilla extract
Directions
Combine the cream cheese and the butter in a medium bowl. Beat with electric mixer until light and fluffy, about 3 minutes.
Gradually add the confectioner's sugar and 2 tablespoons of the milk and beat until smooth. Add the vanilla extract, and the remaining 1 tablespoon milk if the mixture is too thick.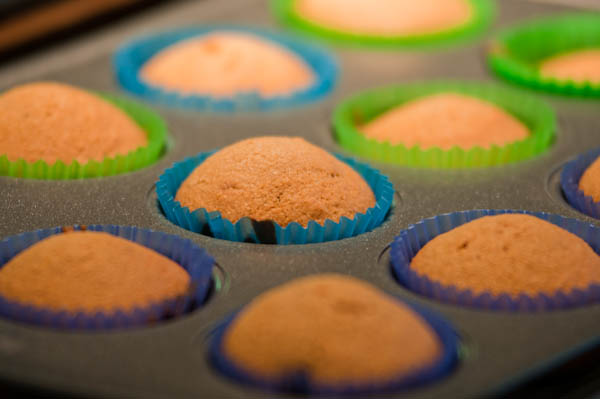 Rich Chocolate Vegan Ganache Topping
Ingredients
¼ cup soy milk (I've also used rice and cow milk in this recipe as well)
4 ounces semisweet chocolate, chopped
2 tablespoons pure maple syrup
Directions
Bring the soy milk to a gentle boil in a small sauce pan. Immediately remove from heat and add the chocolate and maple syrup.
Use a rubber heatproof spatula to mix the chocolate until it is fully melted and smooth. Set aside at room temperature.
Wine pairing:
You wish! But these cupcakes do go really well with hot chocolate or steamed milk!