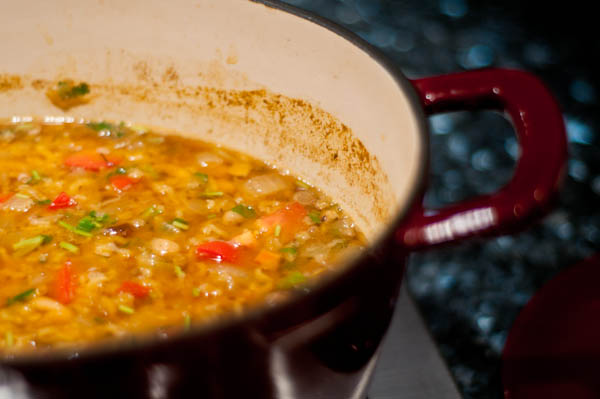 Last weekend, I took my friends on a culinary journey to Morocco. No suitcase required. Only a plate and a wine glass. Napkins and utensils — optional.
My husband and I experienced Moroccan food on our last vacation. The number of exotic delicacies that we came across was a bit shocking (even a little intimidating).  It was not the sheep's brain stew, or the pickled lemon, or even the tagine of braided lamb intestines that captured my attention… but rather, a combination of the unique and authentic flavors, a bouquet of savory spices common to Northern African cuisine that left a strong impression on me.
Stews and tagines are not typical at our family's dinner table (well, in the spirit of full disclosure, neither are cooked brains or intestines). Despite my gravitational pull towards lighter, fresher alternatives, the inviting memories of the Northern African cuisine inspired me to experiment with its flavors at home.
As the kids settled in the opposite corner of our small backyard, the adults gathered around the dinner table.  Red table cloth, chairs close together, dusk setting in, loud conversations, dishes passed around …  Roasted Chickpea appetizer, hearty Moroccan Red Lentil-bean Stew (see recipe below), Baby Greens with Roasted Figs in Honey Vinaigrette, Moroccan Lentil Salad, Tagine Bil Kok, Butternut Squash Tagine over Buttered Chile Couscous, Mejadra Rice, and Cauliflower dressed in Yogurt and Thini. Northern Africa, welcome to my kitchen!
Moroccan Red Lentil-Bean Stew
From A Beautiful Bowl of Soup by Paulette Mitchell
Ingredients
1 tablespoon olive oil
1 cup finely chopped onion
1 teaspoon saffron threads, crushed
1 tablespoon hot water
2 teaspoons curry powder
1 teaspoon ground cumin
1 teaspoon whole fennel seeds
2 tablespoon minced fresh rosemary, or 1 teaspoon dried rosemary, crushed
6 cups vegetable stock, heated
1 15-ounce can white beans, drained and rinsed
½ cup dried red lentils
½ cup basmati rice
1 tomato, cut into ½-inch dice
1/3 cup coarsely chopped fresh cilantro, plus springs of fresh cilantro for garnish
1 tablespoon tomato paste
few drops of Tabasco sauce, or to taste
salt and freshly ground pepper to taste
Directions
Heat the oil in a Dutch oven over medium heat. Add the onions; cook, stirring occasionally, until translucent, about 5 minutes.
Meanwhile, mix the saffron with the hot water; set aside.
Add the curry powder, cumin, and rosemary to the Dutch oven; stir for 30 seconds. Stir in the saffron mixture, vegetable stock, beans, lentils, and rice. Increase the heat to high and bring to a boil. Reduce the heat; cover and simmer, stirring occasionally, until the lentils and rice and tender, about 30 minutes. Stir in the tomato, chopped cilantro, and tomato paste. Season to taste.
Garnish servings with springs of cilantro.
This stew tastes even better the next day.
Wine Pairing
A solid balanced Naked Winery Complicated Viognier is a great choice with a hearty lentil stew.