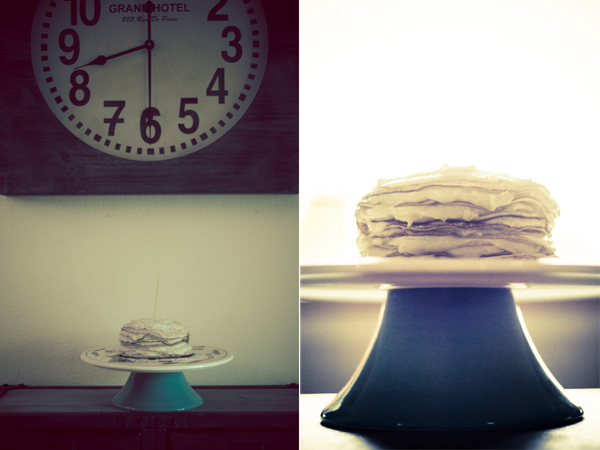 Last week, on my way to work, I got startled by GENi's email announcement of my hubby's approaching birthday. Four Zero! Gotto tell you, seeing such a mind blowing number next to my man's name was pretty surreal!
My man was abut to turn 40!!!
That baby-faced boy, that I met as a teenager, is soon to celebrate his 40th … the boy I introduced to my parents as my boyfriend twenty years ago, and to the world as my husband seven years later… the boy I witnessed grow into a fine man that he is… the boy who has inspired, comforted, and loved me for more than half of my life. That boy was now turning 40!!!
I remember my parents turning 40. Boy, did they seem old to me at the time…. Yet now, standing next to this beautiful man, I don't think 40 is old at all. In fact, to me, this 40 year-old is that same baby-faced boy that I met 20 years ago, with just with a few gray hairs. He has not changed a bit – in fact, he is just as sweet, charming, charismatic, and good looking as he was back when I first met him!
Happy birthday, hubby!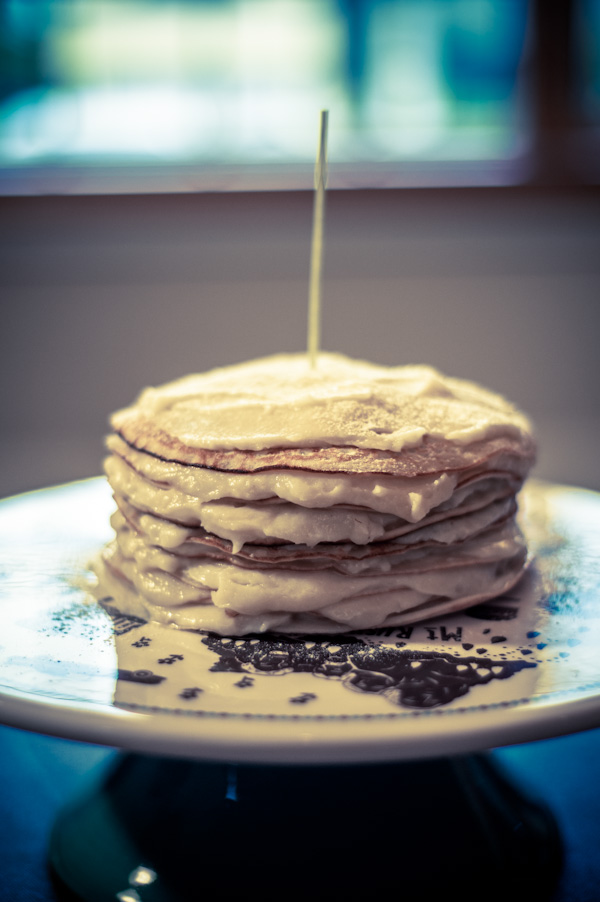 My hubby's favorite dessert, reinvented! Think of the classic Napoleon – for the foodies of the 21st Century, with delicate layers of french-style crêpes and creamy vanilla cream. Warning: you will be tempted to eat the leftovers for breakfast, so plan accordingly.
Crêpe Napoleon
Crêpes recipe adapted from Crepes: 50 Savory and Sweet Recipes
Vanilla creme recipe adapted from The Russian Heritage Cookbook
Vanilla Cream
Ingredients
Directions
Blend butter and flour until smooth
Heat milk and sugar together until mixture boils
Add butter-flour combination and return to the boil, stirring constantly
Stir and simmer for 3-4 minutes longer until mixture regains thickness. It should not be runny but rather of the oatmeal consistency
Add vanilla
Chill to room temperature
Crêpes
Ingredients
1 3/4 to 2 1/4 cups milk
4 large eggs
1/2 teaspoon kosher salt
3 tbsp sugar
1 1/2 cups  flour
6 tbsp regular unsalted butter (or 7 if making brown butter)
More unsalted butter for the pan
Directions
Brown butter – optional: Melt butter in a small saucepan over medium heat. Cook, swirling the pan every few seconds, until all of the water has sizzled off and the milk solids begin to turn a pale golden color, 2 to 4 minutes. Continue cooking another few seconds until golden brown. Immediately pour the butter into a bowl to stop the cooking. Cool to room temperature. (When adding the butter to a crêpe recipe, include the delicious brown milk solids)
Crepes: Put 1 3/4 cups of the milk, the eggs, sugar and salt into a blender. Whiz for a few seconds. Add the flour. Blend until smooth, about 20 seconds. Pour in the melted butter and whiz until combined, 10 seconds more
Chill the batter overnight. When ready to make the crêpes, stir the batter to redistribute the ingredients,  it should be as thick as heavy cream but not as thick as pancake batter. If it feels too thick, whisk in up to 1/2 cup more of the milk
Heat an 8-inch crêpe pan or nonstick skillet over medium-high heat. Spread about 1/2 tsp of butter
Pour 1/4 cup of the batter into the center of the pan and spread evenly across the bottom of the pan
Cook the crêpe until the edges begin to dry and lift from the sides of the pan, and the bottom is nicely browned, about 1 minute. Lift the crêpe and quickly flip it over. Cook until the center is firm and the second side is browned, too, about 20 seconds more
Slide the crêpe from the pan onto a large plate or cooling rack. Repeat with the remaining batter. The crêpes will soften as they cool
Assembling the Crêpe Cake
Alternate crepes with Vanilla Cream, ending with a layer of cream on top
Chill thoroughly overnight
Sprinkle with the powdered sugar before serving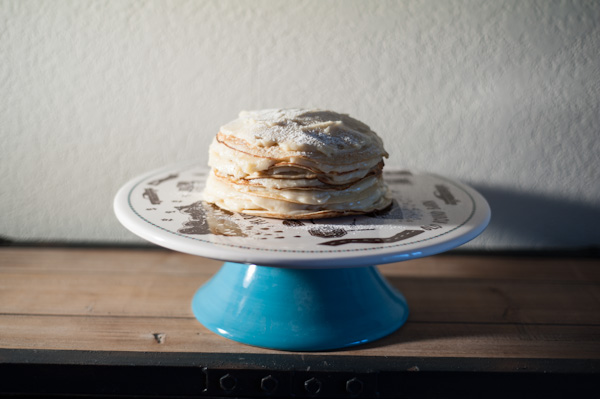 Tea paring
Try this cake with hubby's favorite tea – Lavender Earl Gray!