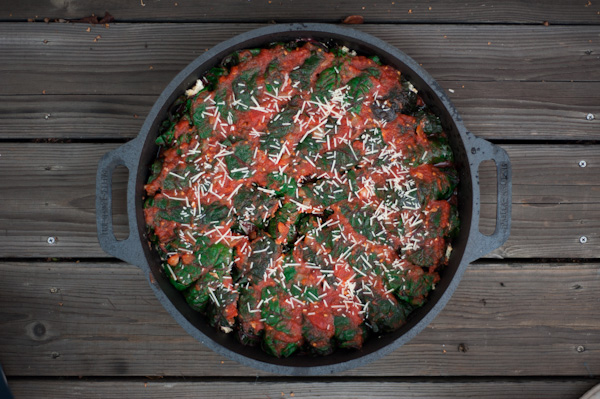 A few months ago, my hubby and I wandered into the Italian food mecca of SF – the North Beach. It was Saturday night and getting a table was proving to be an impossible task. After hours of trying, starving and almost defeated, we noticed a small trattoria, tucked away in a cozy cul-de-sac.
We peaked inside. The restaurant looked authentically Italian, with checker-board linens and Red, White & Green decor. Friendly waiters were busy serving tables and an extravagantly dressed host in blue mascara was patiently trying to accommodate hungry tourists. We decided to try one last time.
Disregarding all restaurant etiquette, we elbowed our way towards the host. Looking directly at the host, and with a big warm smile on his face, my man softly inquired, "My wife and I would like to get a table but we don't have a reservation. Is there anything you can do for us? Anything at all?"
As some of you may know, my husband can be very charismatic, and his sweet smiles have gotten us many tables in the full-to-capacity restaurants in the past. This particularly busy night, however, I was feeling realistically skeptical that even his charming personality could get us seated …until i noticed the host blushing. A young man in blue mascara quickly looked at the reservation book, then those behind us, and blushed again as he briefly considered the moral implications of letting us cut the line. He then pulled out two dinner menus and led us through the crowded restaurant to the two empty chairs at the bar.
We ordered lots. And drank lots. Made a few friends at the bar, including one businessman from Lebanon with a dream of opening his own restaurant. The night turned out  to be quite memorable and so did one of the dishes that we tried: Swiss Chard Roll-ups. Comforting, colorful, multidimensionally flavorful and so non-Italian healthy.
The memories of that fun night got etched into my memory but I have long forgotten about the delicious dish… Until recently, when I tried something similar at a friend's house.
In my own kitchen, I integrated flavors and ideas from the original dish into my friend's recipe and added a bit of a Cucee twist. The result – tart collard leaves loosely wrapped around a creamy, flavorful mixture of goat cheese, lentils and barley, and baked in the sweet marinara sauce with a touch of freshly grated Parmesan.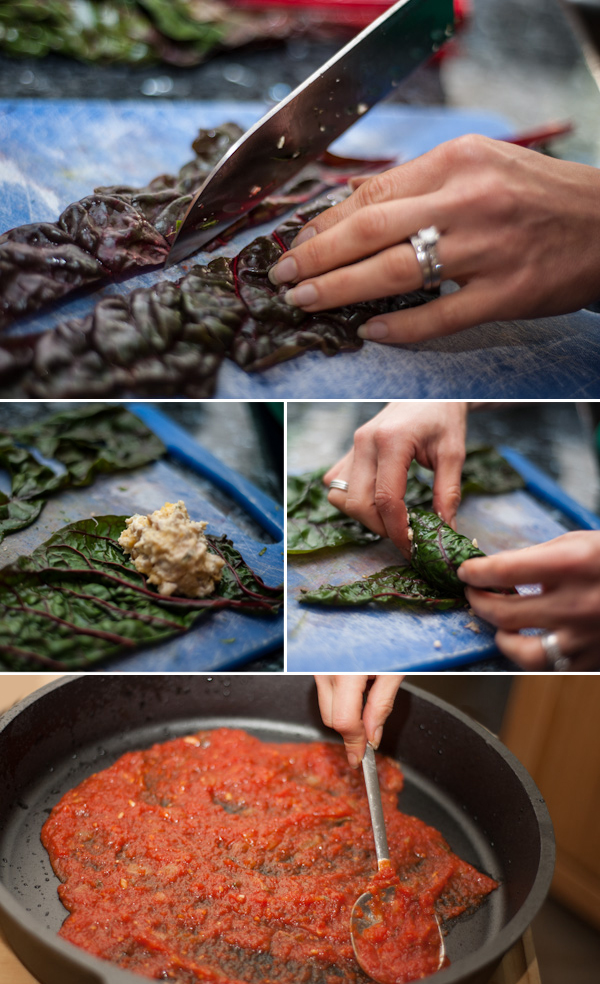 Swiss Chard Roll-ups
Adapted from Giada's recipe that my friend served us for dinner
Ingredients
Butter, for greasing the baking dish
6 large Swiss chard leaves (about 1 1/4 pounds)
2 cups cooked barley
1 packed cup baby arugula leaves, chopped
1 cup (8 oz) goat cheese, at room temperature
1 cup cooked green lentils
1/2 cup chopped fresh mint leaves
1/4 cup extra-virgin olive oil
1 tsp salt, plus extra for seasoning
1/2 tsp freshly ground black pepper, plus extra for seasoning
2 cloves garlic, minced
One to two 26-ounce jar marinara (or follow my recipe)
1/2 cup (2 oz) grated Parmesan
Directions
Preheat the oven to 400 degrees F. Butter a 9 by 13-inch glass baking dish. Spoon 1 cup marinara sauce on the bottom of the prepared pan. Set aside
Remove the thick stem from the center of each chard leaf. Cut each leaf in half lengthwise. Trim the ends from the leaves to make each leaf-half about 7 inches long and 5 inches wide
Bring a large pot of salted water to a boil over high heat. Add the chard leaves and cook for 10 seconds. Remove the leaves and rinse with cold water. Drain on paper towels and set aside
In a medium bowl, mix together the barley, arugula, goat cheese, lentils, mint, olive oil, 1 teaspoon salt, 1/2 teaspoon pepper and garlic. Season with additional salt and pepper
Spoon 1/3 cup of the filling onto the end of each chard leaf and roll up like a jellyroll
Arrange the rolls, seam-side down, in a single layer on top of the sauce. Spoon the remaining sauce on top and sprinkle with the Parmesan
Optional – drizzle with 2 tbsp olive oil or dot the top with butter
Bake until the cheese begins to brown and the rolls are heated through, about 25 minutes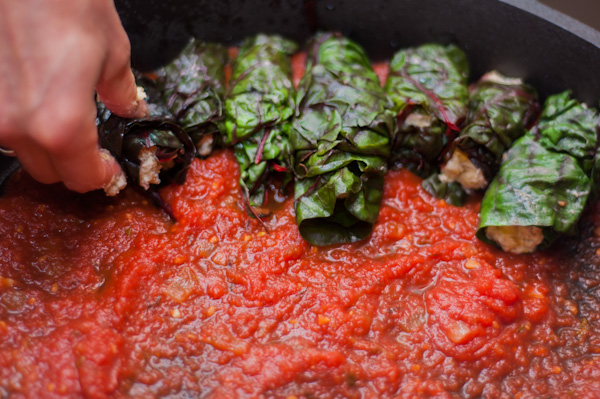 Marinara sauce (if you want to make your own)
I usually double this recipe and serve extra sauce on a side. (Confession: I like my Italian food saucy so I also add more sauce to the pan as well)
P.S. This recipe comes from my East Coast Italian friend whose family serves this sauce over many special-occasion dishes!
Ingredients
Directions
In a large casserole pot, heat the oil over a medium-high flame. Add the onions, garlic and dried oregano. Saute until the onions are translucent, about 10 minutes
Add the tomatoes, basil, parsley and simmer uncovered over low heat until the sauce thickens, about 45 min to 1 hour
Season the sauce with more salt and pepper, to taste
Let the sauce cool a little. Transfer to a food processor and blend until smooth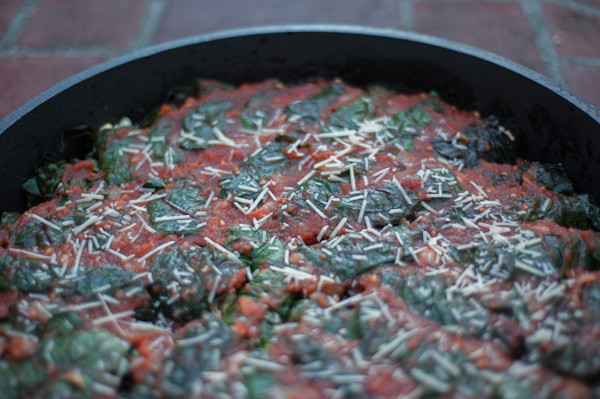 Wine Pairing
My favorite in the whole wide world zinfandel,  Sin Zin, is a really good wine to compliment these flavorful roll-ups.