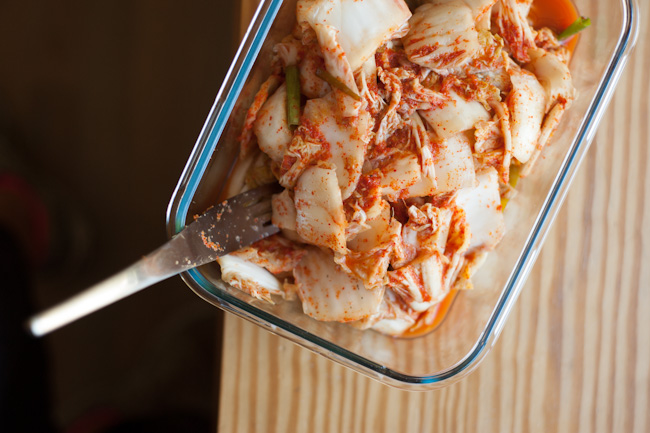 Sometimes I get so frustrated.
Just the other day, I was feeling a need for comfort food and decided to make a pot of hearty Korean Kimchi Stew. I drove to Whole Foods, grabbed a pound of beef, a couple of onions and a package of red pepper paste. I reached for a jar of kimchi, quickly scanned the ingredients for nuts (something I always do with new products) and almost threw it into my cart when, to my surprise, I saw shrimp in the lineup. A shrimp in the fermented vegetable product?!
I put the jar back and scanned the shelf for an alternate brand with no shrimp. No such luck. Frustrated, I drove to an Asian supermarket, sure that I would find vegan kimchi there!  Nope. Three different brands, all non-kosher. I went from one store to the next until, finally, I located one with no seafood in-sight. I grabbed 3 jars, paid 3 times as much and went home to cook, 3 hours later than originally planned to.
That was frustrating!
Since then, I have been on a hunt for a kimchi recipe, vegan style. My prayers have been answered by Olga Massov, the author of The Kimchi Cookbook and the blogger behind sassyradish.com. Olga discovered a really cool vegan seafood substitute – the juice of soaked shiitake mushrooms. As surprising as that is, the smokey deep flavor of the liquid really matches the flavor of, um, shrimp!
So, here is how you make kimchi at home. Trust me, this will be fun and absolutely painless. Just make sure that you have these two items before starting your fermentation project:
Korean pepper flakes (kochukaru.) You can get those at an Asian market or on Amazon. Do not substitute with crushed red pepper – the two are pretty different! Korean pepper is much sweeter and smokier in flavor. And don't get hung up on the word "flakes" – what you are actually looking for is pepper in a form of a coarse powder.
Ok, ready, set, ferment!
Square-Cut Napa Cabbage Kimchi (Mak Kimchi)
Adapted from The Kimchi Cookbook
Ingredients
Brine
2 medium heads (about 4 to 6 pounds total) napa cabbage, cut into 2-inch squares
1/2 cup kosher salt
Seasoning paste
1/2 cup thinly sliced yellow onion
4 teaspoons minced garlic
2 teaspoons peeled, finely grated fresh ginger
3 tablespoons Mushroom Broth (see below)
2 teaspoons sugar
1/2 cup Korean chile pepper flakes
4 green onions, green parts only, cut into 2-inch pieces
1/4 cup water
Mushroom Broth
Directions
Mushroom Broth
Place the mushrooms in a medium bowl
Pour boiling water over the mushrooms
Stir in the salt
Cover and let sit for 20 minutes
Squeeze the water out of the mushrooms and allow the broth to cool to room temperature or refrigerate before using
Discard the mushrooms or store them in the broth to further infuse their flavor
Brine
In a large bowl, combine the cabbage with the salt and set aside for about 1 hour. Drain the liquid and rinse the cabbage to remove any traces of salt. Let the cabbage drain in a colander for 20 minutes, or use a salad spinner to remove most of the water
Seasoning paste
In a mini food processor fitted with a metal blade, pulse together the onion, garlic, ginger, mushroom broth and sugar until a paste forms
Transfer to a bowl and mix in the chile pepper flakes
Set aside for 15 minutes to let the flavors combine
Kimchi
In a large bowl, mix together the green onions, seasoning paste and drained cabbage until combined thoroughly, making sure the seasoning paste is distributed evenly among the leaves
Pack the mixture tightly into a large container
Add 1/4 cup water to the mixing bowl, and swirl the water around to collect the remaining seasoning paste. Add the water to the container, cover tightly and set aside for 3 days at room temperature
The cabbage will expand as it ferments, so be sure to place the jar on a plate or in a bowl to catch the overflow