My son's buddy, a sweet big-eyed 13-year-old boy, is a frequent visitor at our house. He is there so often that sometimes I feel like I am a mom of three.
This kid loves my cooking! So much, that sometimes he calls me back for a recipe for last night's dinner. THIS is his most favorite dish!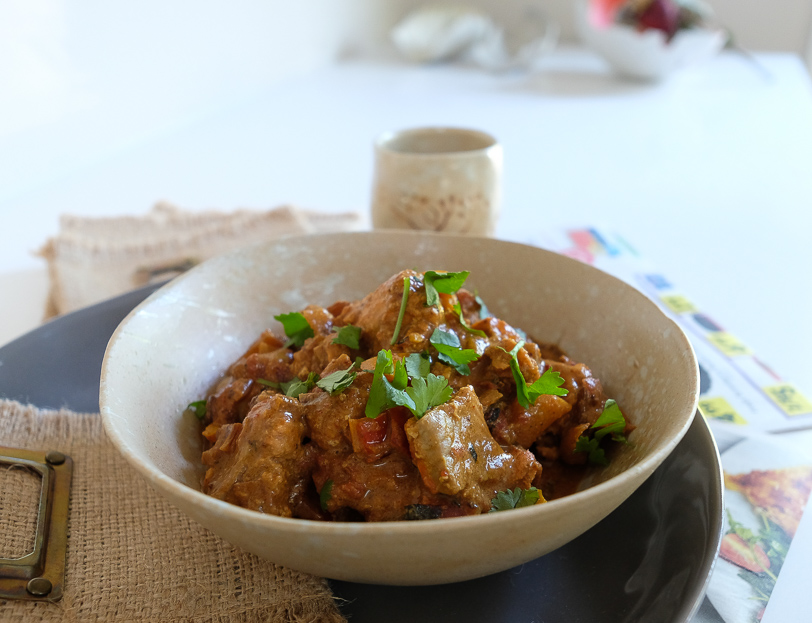 Salmon with Fire-Roasted Tomato Coconut Sauce
This sauce is a base for just about any kind of protein you crave, whether it is chicken, fish, even tofu.
Ingredients
Directions
In a medium pot, heat the oil over medium-high heat. Add onion, ginger, bell peppers and red pepper flakes and cook, stirring, until the onion is translucent, about 15 minutes

Add fire roasted tomatoes, the broth (or water) and garlic powder. Season with salt and freshly ground black pepper. Bring to a boil. Reduce the heat and simmer for 20 minutes. Process in a food processor if you like a smoother consistency (I do)

Add coconut milk. Simmer for another 5 minutes to allow the flavors to blend

Add salmon and toss lightly to coat with the sauce. Simmer for 5-7 minutes, or until it is cooked through

Serve over Kelp Noodles, Cauliflower rice or Zoodles
Wine Pairing

This Natural Biodynamic wine truly compliments this rich dish. The firm tannins in Meinklang Burgenland refresh the palate after each bite. You can get a bottle of Meinklang Burgenland, as well as other outstanding Natural Wines, atDry Farm Wines